Company Description:
About Us
With an extensive fulfillment and delivery network, we are able to deliver customer orders next day. Over 10,000 Supply Chain & Logistics associates throughout North America deliver "easy" through the integration of process and technology. We are continuing to invest in our people, capabilities and technology to deliver "Every product our customers need, when they want it, where they want it and how they want it." Without a doubt, our Supply Chain differentiates us from our competitors.
We offer competitive wages along with a comprehensive benefits package including medical, dental, vision, vacation, sick pay, company RRSP/DPSP, and much more.
Company Info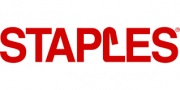 Staples Inc.
550 Pendant Dr.
Mississauga, ON, Canada
Phone
:
905-696-4444 x3113
http://careers.staples.com/
Jobs by Staples Inc.
There are no postings meeting the criteria you specified