Open Positions at the Upcoming Toronto Career Fair!
Posted: 07.26.2018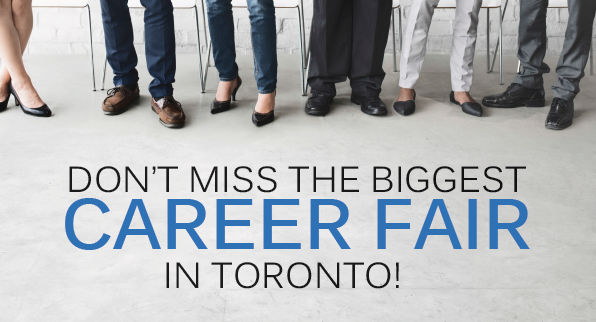 Make career connections at our Toronto Career Fair!
Meet with the
TorontoJobs.ca
Recruitment Team, have your resume reviewed and network with top employers!
Our exhibitor list includes:
TorontoJobs.ca, Optima Communications,
Penske Truck Leasing Canada,
Investors Group, Toronto Police, TriOS College, Ministry of Community Safety and Corrections, Oliver Jewellery, Next-Steps Employment Centres, Sherwin-Williams, Royal Canadian Navy, Oxford College, CPA Ontario, Heritage Education Funds, The Chang School, Ryerson University, Skills for Change, Sun Life Financial, Teleperformance, Moneris Solutions, Goodlife Fitness, Robert Half, Career Edge Organization, Canadian National Railway, The Mobile Shop, AltisHR, Financeit, Modern Theory Institute, Citco Canada, University of Toronto Scarborough, Dock Products Canada, PCC Aerostructures Canada, Stephenson's Rental Services, HelloWerk, The Centre for Education and Training, iMarketing, Angus Consulting Management Limited, Dejardin, Aversan, Questrade, First Student, Ziggy Jobs, Volante Systems, Air Canada Rouge, Matcor Metal Fabrication, Airborn Flexible Circuits and many more!
Positions Available:Accounting:
Accounting Technician
General Accountant
Junior Accountant
Junior Accounting Associate
Senior Accountant
Senior Accountant - Audit Senior
Senior Accountant - Audit Sector
Senior Associate
Senior Manager
Senior Staff Accountant
Manager
Supervisor
Tax Manager
Accounting Internship
Finance Internship
Payroll & Accounting Assistant
Profit & Loss Analyst
Fund Accountant
Administration:
Administrative Assistant
Account Coordinator
Bilingual Collections Representative
Data Entry Clerk
Receptionist
Office Assistant
Investor Relations Administrator
Bilingual Collections Specialist
Manager, Funding Operations
Funding Officer
Underwriter
Customer Service:
Customer Service Representative

Contact Centre Representative

Customer Contact Representative

Donor Relations Agent

Client Services Specialist

New Accounts Specialist

Client Services Specialist

Flight Attendant
Business Development & Sales:
Sales/Management Trainee

Sales Intern

Sales Representative

Marketing Representative
​Education:
​AutoCAD Instructor
Revit Instructor
Adobe Instructor
Digital Marketing Instructor
​Engineering:
Finance/Banking:
Financial Advisor
Fund Accounting
Investor Relations
Director of Risk Management
General Trade/Labour:
Warehouse Associate

Service Technician

Assistant Track Supervisor

Diesel Engine Mechanic

Electrician/Industrial Electrician

Railway Car Technician

Labourer

Equipment Operator

Train Conductor

Grounds Keeper

Service Worker, Caretaking

Landscape Technician

Assistant Bridge Inspector

Assistant Rail Track Maintenance Foreman

Assistant Track Supervisor

B&S Foreperson

Crew Dispatcher

Diesel Engine Mechanic

Electrician/Industrial Electrician

Manager, Safety Management System (SMS)

Mechanic A - Fleet Services Garage

Rail Track Maintenance Foreman

Railway Car Technician (Car Mechanic)

Labourer/Equipment Operator/ Heavy Equipment Operator

Mechanical Supervisor

Train Conductor

Service Technician

Service Tech Helper

Industrial Sewer

Building Operator

Facility Manager

Supervisor of Facility Management

Forklift Operator

Production Associate

Production Supervisor

Welder

Electrician

Robot Technician

Chemical Process Operator

CNC Drill Operator

Electronics Inspector

Press Operator

Silkscreen Operator

Die Cut Operator
Health and Wellness:
Personal Trainer

Fitness Advisor

Field Health & Safety Specialist
Hospitality:
Human Resources:
Human Resources Internship
Field Health & Safety Specialist
Human Resources Associate
Labour Relations Manager
Recruiter
Technical Recruiter
Sourcing Coordinator
Proposal Writer
Logistics/Transportation/Distribution:
Driver

Signals & Communications Apprentice

Operations

School Bus Driver

Brake Press Operator
Marketing:
Room Booking Officer

Events & Conference Coordinator

Marketing Coordinator

Social Media Coordinator

PR Assistant

Senior Brand Designer

Analyst, Analystics & Reporting

Director of Marketing

Senior Account Manager
Retail:
Wireless Sales Manager

Sales Associate
Security:
Correctional Officer
Special Constable
Information Technology:
IT Internship

IT Assistant

Software Developer

Senior PHP Developer

Project Manager

Software Engineering Team Lead

Senior Business Intelligence Engineer

Senior C++ Engineer

Senior User Experience Designer

Technical Support Specialist

Deployment Specialist

Configuration Specialist

Product Manager

Software QA

Systems Business Analyst

Full Stack Software Developer

Director of PRoduct Management

UX Researcher

Senior PHP Developer
View All Articles