Open Positions at the Upcoming Toronto Career Fair!
Posted: 08.01.2017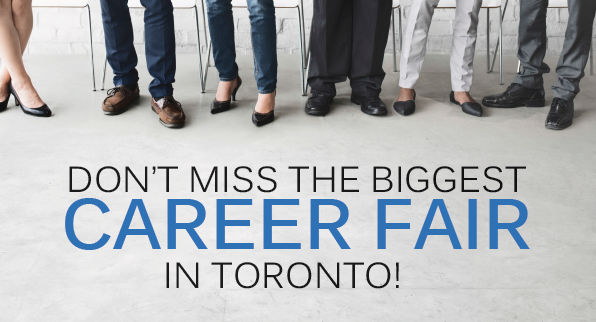 1,000 + Positions Available!!!




More positions added daily!





REGISTER NOW!

Accounting:
Senior Manager
Accounts Payable/ Accounts Receivable Administrator
Intermediate Accountant
Chief Financial Officer (CFO)
Senior Accountant
Senior Associate - Business Valuations / Forensic Accounting
Accounting Technician
Manager
Assurance Manager
Tax Specialist
Tax Manager
Bilingual Senior Auditor [English/ Mandarin]
Bilingual Payroll Specialist
Senior Staff Accountant
Accounting Technician
Accounting Manager
Financial Accountant
Business Advisor
Administration:
Administrative Assistant
Personal Assistant
Human Resources Administrator
Business Development & Sales:
Management/Sales Training Internship
Entry Level Management
Donor Relations Agent
Customer Service:
Customer Service Representative
Customer Contact Representative
Passenger Service Agent
Distribution:
Seasonal Distribution Associate
Education:
Post Secondary Instructor
Administration
Finance/Banking:
Financial Advisor
Insurance Advisor
Associate Financial Analyst
Dealing Representative
Associate
Business Analyst
General Trade/Labour:
Seasonal Production Assistant
Service Technician
Valet Driver
Production Worker
Production Assistant
General Labour
General Sanitation
Sanitation Group Leader
Production Operator
Ramp Service Agent
Marine Technician
Diver
Hospitality:
House Manager
Butler
Housekeeper
Private Chef
Cook
IT:
Tech Support
Supervisor
Manager
Front-End Developer
Logistics/Transportation:
School Bus Driver
DZ Driver
Logistics Coordinator
Retail:
Cashier
Sales Associate
Receiver
Retail Manager
Wireless Sales Associate
Wireless Sales Manager
Store Service Representative
Sales and Marketing:
Brand Experience Agent
Entry Level Sales Representative
Sales Representative
Energy Advisor
Sales & Service Technician
Manager
Outside Sales Representative
Route Sales Representative
Account Manager
Account Development Manager
Telesales
Account Manager
Security/Police:
Correctional Officer
Police Constable
Security Guard
Special Events Security Officer
Security Supervisor
ABOUT THE EVENT
Our Toronto Career Fair is an ideal opportunity for job seekers to network with local GTA employers, access 100's of current job openings and gain valuable career advice from influential people in the Recruitment Industry in the Greater Toronto Area. Admission to the Toronto Career Fair is free for Job Seekers with Pre-Registration.
Some of our Toronto Exhibitors Include:
Abell Pest Control, Automotive Training Centre Ontario, CPA Ontario, Discount Car & Truck Rental, Experior Financal,
First Student Canada, GardaWorld, Heritage Education Funds Inc,
Investors Group,
Just Energy, LIUNA Local 183,
Lush Manufacturing, Metrolinx,
Manulife Securities, Ministry Of Community Safety & Correctional Services, Mosaic North America, Optima Communications, Oxford College, Quarterback Transportation, Rich Products of Canada, St. Stephen's Community House, Sherwin-Williams, The Mobile shop, The Centre for Education & Training, Trillium Auto Dealers Association,
Trios College,
UniFirst, York Regional Police,
Youth Employment Services. 411.ca and many more!
CLICK HERE TO REGISTER TO ATTEND
(free of charge with pre-registration)
View All Articles