OPEN POSITIONS AT THE UPCOMING MISSISSAUGA CAREER FAIR!
Posted: 02.07.2019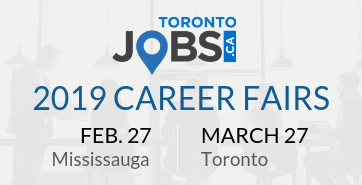 Make valuable career connections at our Mississauga Career Fair on February 27th at Living Arts Centre!
Event Location:
Living Arts Centre, Mississauga
Time: 9
:30am - 1:30pm
Meet with the TorontoJobs.ca Recruitment Team, have your resume reviewed and network with top employers in the GTA!
Our exhibitor list includes
: TorontoJobs.ca, MetCredit, Ontario Screen Systems, Knowledge First Financial, American Iron & Metal, Peel Career Assessment, Air Canada, Peel Regional Police, Cintas, Uline, Moneris Solutions, Oxford College, Altis HR, The Mobile Shop, Dixie Bloor Neighbourhood Centre, Heritage Education Funds, Career Edge, Teleperformance, Quarterback Transportation, City of Brampton, Sherwin-Williams, ProTemps ProTege, Robert Half – Office Team, PMC Specialist Recruitment, CPA Ontario, American Armed Forces Recruiting, Pest Control Plus, Access Centre for Regulated Employment, Sun Life Financial and many more!
Positions Available:Accounting:
• General Accountant
• Junior Accountant
• Senior Accountant
• Senior Associate
• Senior Manager
• Senior Staff Accountant
• Senior Assurance Accountant
• Accounting Clerk
• Accounts Receivable Clerk
• Accounts Payable Associate
Administration:
• Administrative Assistant
• Receptionist Customer Service:
• Customer Service Representative
• Contact Centre Representative
• Bilingual Customer Service Representative
• Collection Agent
• Technical Support
Business Development & Sales:
• Sales/Management Trainee
• Sales Intern
• Sales Representative
• Marketing Representative
• Service Sales Representative Education:
• Instructors
Finance/Banking:
• Financial Advisor
• Senior Manager
General Trade/Labour:
• Service Technician
• Labourer
• Equipment Operator
• Heavy Equipment Operator
• Packaging
• Machine Operator
• Registered Apprentices
• HVAC Technician
• Building Operator
Human Resources:
• Human Resources Internship
• Recruiter
• Business Development Manager
Logistics/Transportation/Distribution:
• Delivery Driver
• Truck Drivers
• Truck and Coach Technicians
Warehouse:
• Warehouse Associate
• Warehouse Manager Trainee
• Order Picker
• Order Packager
• Forklift Operator
• General Maintainer
• General Labourers
View All Articles