OPEN POSITIONS AT THE UPCOMING TORONTO CAREER FAIR!
Posted: 03.03.2019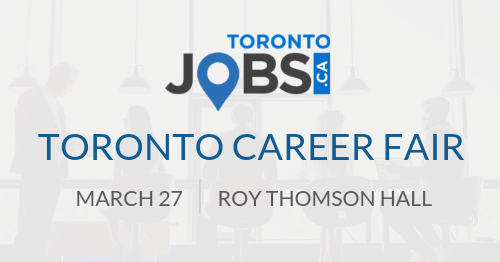 Make valuable career connections at our Toronto Career Fair on March 27th at Roy Thomson Hall!
Event Location:
Roy Thomson Hall, Toronto
Time:
11am - 3pm
Meet with the TorontoJobs.ca Recruitment Team, have your resume reviewed and network with top employers in the GTA!
Our exhibitor list includes
: TorontoJobs.ca, Knowledge First Financial, Swoon Staffing, White Shark Ltd., Talent Employment - iTrain, Adastra Corporation, Air Canada, Ontario Screen Systems, Oxford College, Moneris, Moneris Solutions, The Mobile Shop, Knowledge First Financial/Heritage Education Funds, Teleperformance, Sherwin-Williams, Youth Employment Services, NHI Nursing & Homemakers, American Armed Forces Recruiting, Sun Life Financial, First Student, Financeit, Centennial College, Jacobs, Empire Life, Quarterback Transportation, Freedom 55 Financial, Canadian National Exhibition, YWCA Toronto-Scarborough, Ministry of Community Safety and Correctional Services, PMC Recruitment, Kognitiv, Seneca College, Metro Ontario Inc., Gatsby Valet, UniFirst, and more!
Positions Available:Accounting:
• General Accountant
• Junior Accountant
• Senior Accountant
• Senior Associate
• Senior Manager
• Senior Staff Accountant
• Senior Assurance Accountant
• Accounting Clerk
• Accounts Receivable Clerk
• Accounts Payable Associate
Administration/Customer Service:
• Administrative Assistant
• Receptionist/Customer Service
• Customer Service Representative
• Contact Centre Representative
• Bilingual Customer Service Representative
• Front Desk Agent
• Dispatcher
• Executive Assistant
• Service Appointment Coordinators (Call Centre)
• Air Agent
Business Development & Sales:
• Sales/Management Trainee
• Sales Intern
• Sales Representative
• Marketing Representative
• Service Sales Representative
• Business Development Manager
• Field Sales Specialist
• Travel Sales Agent
Education:
• RECE / ECA
• Instructor
Entertainment:
• Casino Dealers
• Casino Staff
Finance/Banking:
• Financial Advisor
• Senior Manager
• Financial Security Advisor
General Trade/Labour:
• Service Technician
• Skilled Labourer
• General Labourer
• Industrial Labourer
• Equipment Operator
• Heavy Equipment Operator
• Machine Operator
• Registered Apprentices
• HVAC Technician
• Building Operator
• Window Cleaners
• Painters
• Maintenance Mechanic
Health & Wellness:
• PSW / RN / RPN
• Dental Assistant
• Dental Reception
• Registered Dental Hygienist
• Treatment Coordinator
• Healthcare Staff
Human Resources:
• Human Resources Internship
• Recruiter
• 360 Recruiter
IT/Tech:
• Python Developers
• Lead Software Developer
• Big Data Developers
• Business Intelligence Consultant
• Technical Support
Logistics/Transportation/Distribution:
• School Bus Driver
• Delivery Drivers
• Valet Driver
• Airport Station Attendant
Retail:
• Wireless Sales Manager
• Sales Associates
Security:
• Correctional Officer
• Probation and Parole Officer
Warehouse:
• Warehouse Associate
• Warehouse Manager Trainee
• Order Picker
• Order Packager
• Forklift Operator
• General Maintainer
• General Labourer
• Machine Operator
• Equipment Operator
View All Articles