Listen to Lai-King Hum's Recording from Our Past Canadian Virtual HR Conference
Posted: 11.11.2020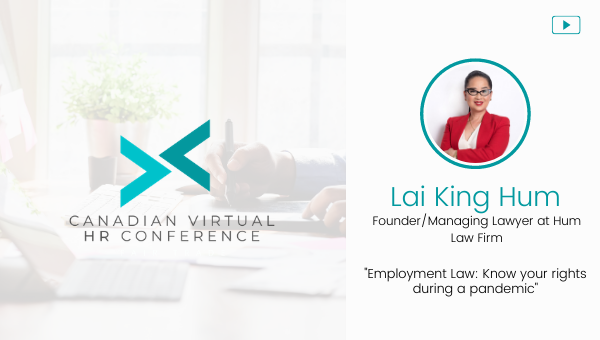 Listen to Lai-King Hum's speaking session from our past Canadian Virtual HR Conference.
Founder of Hum Law, Lai-King Hum is known for expertise in all areas of workplace law. After 15 years at national firms in Montreal and Toronto, Lai founded her Toronto-based boutique firm in 2014, focusing on workplace law, mediation & investigations, human rights, professional regulation, and litigation. Licensed in Ontario and Quebec, she and her team assist individuals, businesses, not-for-profit organizations and entrepreneurs based in Canada, as well as U.S. and China, with their legal issues. Her clients include those in education, healthcare, manufacturing, and financial / banking services. A member of ADR Institute of Ontario, she also conducts workplace investigations as well as mediations.
In addition to her practice, Lai is a part-time Deputy Judge, Toronto Small Claims Court branch of the Superior Court of Justice. She is also one of the Counsel in the Discrimination and Harassment Counsel Program, a service funded by the Law Society of Ontario and a Tribunal Member at the Condominium Authority Tribunal.
Lai is a board member of Up With Women, a not-for-profit organization operating in various cities in Ontario providing coaching to homeless women, and a Trustee with CPAC Foundation. She is also Vice-President of the Ontario Deputy Judges Association.
You can learn more about Lai-King
here
.
Click
here
to watch his session on "Employment Law: Know your rights during a pandemic."
Catch up with all our past sessions on our YouTube Channel
here
.
Click
here
for a full list of our upcoming virtual events.
TorontoJobs.ca is a full-service recruitment organization, including TorontoJobs.ca Website, Career Fairs, full-service Recruitment Division and Outplacement Services. The local focus and advanced features make TorontoJobs.ca a vital asset for both job seekers and employers within the Greater Toronto Area. Visit our Online Career Centre for additional articles on Career Development, Personal Branding and more!
View All Articles