Upcoming Webinar: Preparing for Your Interview
Posted: 11.12.2020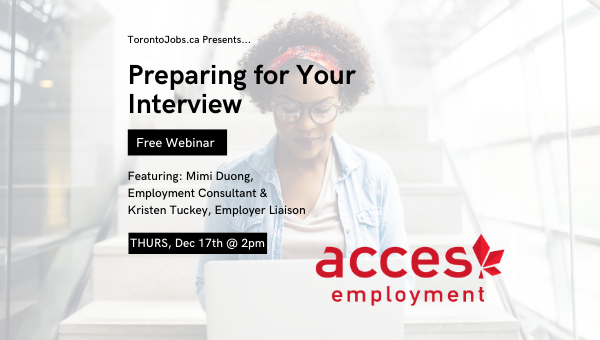 Registration is open for ACCES Employment's upcoming Webinar.
Topic: Preparing for Your Interview
In this webinar you'll discover helpful tips for acing your next telephone, in-person, or video conference interview. You will explore how to effectively prepare for your interview, answer the toughest interview questions and follow up. Leave feeling confident and ready to show employers why they should hire you!
Presenter: Mimi Duong, Employment Consultant & Kristen Tuckey, Employer Liaison
In Partnership with: TorontoJobs.ca
Webinar Date & Time: Thursday, December 17
th
, 2020 @ 2pm (EST)
Register here.
View All Articles