Five Aspects of Recruitment Process All HR Managers Should Be Focusing On
Posted: 04.01.2021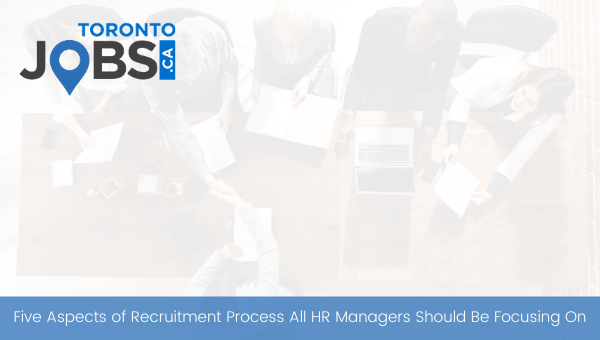 Various steps of the recruitment and selection processes are a part of the HR routine. Numerous aspects of these procedures require particular attention as they are crucial for building a solid and consistent team.
No two companies are the same. Therefore a successful recipe varies depending on the situation. The very essence of recruitment is attracting, selecting, and designing the appropriate candidates for one or more positions within an organization, permanent or temporary. However, there are some elements every recruiter should try to incorporate into their strategy.
Here are five top vital aspects to focus on. Once mastered, they will have a considerable effect on your HR routine.
1. Recruitment Strategy.
An effective recruitment strategy does not boil down to
posting a job description
and waiting for a perfect candidate. In case you want to hire better candidates, reduce time spent per hire and fill the positions with qualified staff in 2021, you should seriously consider the following:
Employer Branding: Brand reputation is one of the most complex and essential elements in attracting talent. 72% of leaders in the recruitment field agree that it has a significant impact on hiring.
Hiring Process Innovations: Luckily, there are numerous opportunities to optimize your efforts by applying modern tools, software, and a data-driven hiring approach.
Hiring Passive Candidates: Finding a great candidate becomes more like a game of dice, as the top talent is gone from the job market in less than 10 days. However, there is no lack of passive candidates. According to research, 85% of the world workforce would gladly change their job for a better opportunity.
2. Recruitment Marketing.
The space of recruitment marketing is developing at a super pace. When the industry grows as fast, it is essential to revise and reconsider techniques to ensure the efforts will result in success. While each recruitment marketing strategy is and should be unique, all successful strategies have these 5 common aspects:
Deep, source- and job-level analytics.
Clear, metrics-based goals.
Understanding of job performance classifications.
Top-notch job content.
Diversified media mix.
Recruitment marketing strategies require constant updates and improvement. Therefore, it would be naive to expect it to work well from the start. Rely on recruitment marketing analytics and don't get tired to adjust, tune and improve constantly.
3. Effective Candidate Evaluation.
Candidates' outreach usually nets numerous resumes. Some of these resumes are strong, some are well enough, while others belong to weak candidates. Your key goal is to cut the time spent on the evaluation to preserve the high quality of the evaluation techniques. The more quickly you filter the best candidates, the bigger your chances are to add some top talents to your team. There are three basic steps an effective evaluation process should include:
Step 1 — Set up the evaluation process that moves up top talents quickly.
Step 2 — Fine-tune your tools with relevant criteria.
Step 3 — Narrow down the list.
Scanning resumes, skills inventory, conducting
aptitude evaluation
, searching for specific features and characteristics used correctly help evaluate job candidates effectively and, more importantly, objectively.
4. Interviewing.
Each interview which is often considered the central part of the recruitment process has a different aim. Undoubtedly, you will not search for the same skills set and assess for the same competencies. However, there are some essential features you should always keep in mind while interviewing a candidate:
Candidates' compatibility with company values.
Ability to fit with the team.
Candidates' personal qualities (confidence, self-awareness, honesty, etc.).
Problem-solving abilities.
Ability to process information.
A good HR always has specific inquiries, tricks, and questions to reveal these features and take the genuine candidates' self to the light.
5. Onboarding.
Onboarding is an essential but commonly overlooked component of the recruitment process. Someone may not even regard it as the responsibility of HR. However, the hard work of a qualified HR only starts with the acceptance of the job offer. To make a favorable first impression during hiring is as important as reinforcing a positive image during the first year of employment. Sadly, companies
lose up to one-third of their new hires within the first year
. To avoid a disaster, every HR should stick to the golden rules of a smooth onboarding process.
Rule 1. Assure the understanding of the company culture not in words but practice.
Rule 2. Provide the experience of early success.
Rule 3. Create a network of mentors and supporters.
The organization's performance depends on the efficient work of its employees. Therefore, it is of utmost importance that the most qualified and satisfying employees are selected. Luckily, there are many great tips here that you can implement today to improve your employee retention and engagement. Make sure to focus on the essential while making hiring decisions, as quite often, some minor matters distract your attention and result in bad hires.
Erika Rykun is a career and productivity copywriter who believes in the power of networking. In her free time, she enjoys reading books and playing with her cat, Cola. Find her at WikiJob.
View All Articles