Listen to our Webinar Recording "Best Practices for Recruiting Staff in 2021" Presented By TorontoJobs.ca
Posted: 06.23.2021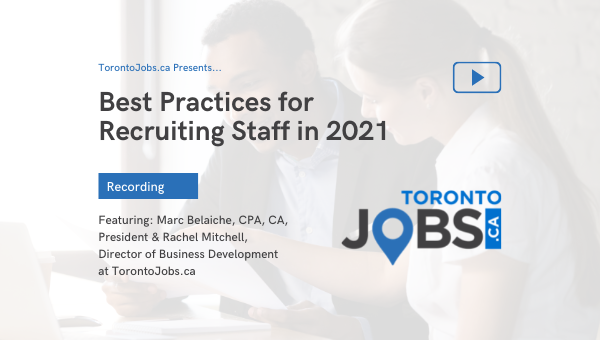 If you missed our webinar on "Best Practices for Recruiting Staff in 2021" presented by TorontoJobs.ca, you can catch the recording
here
.
The COVID-19 pandemic shook the labour market leaving employers hanging with uncertainty.
Over the past few months, the TorontoJobs.ca Recruitment Division has received many questions regarding the state of the labour market such as what recruiting looks like now, what companies are doing to find the best staff and the best ways in which employers can attract and manage talent in this economic climate.
Hear what Marc has to say about the latest twists and turns in the labour market and the must-knows for employers looking to attract and retain top talent.
For more recruiting advice, you can visit our Toronto Recruiters YouTube Channel
here
.
For a list of our upcoming virtual events and webinars click
here
.
TorontoJobs.ca is a full-service recruitment organization, including TorontoJobs.ca Website, Career Fairs, full-service Recruitment Division and Outplacement Services. The local focus and advanced features make TorontoJobs.ca a vital asset for both job seekers and employers within the Greater Toronto Area. Visit our Online Career Centre for additional articles on Career Development, Personal Branding and more!
View All Articles