Listen to Alysha Campbell's Recording from our Past Canadian Virtual HR Conference
Posted: 07.14.2021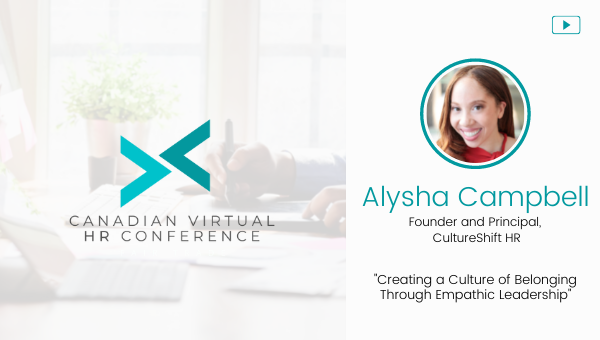 Check out Alysha Campbell's speaking session from our past Virtual HR Conference.
Alysha M. Campbell is an accomplished and respected Strategic HR Leader with a decade of experience that encompasses all facets of Human Resource Management. From executing successful multi-million dollar workforce recruitment and optimization projects to spearheading employee culture initiatives, Alysha has truly seen and done it all in the HR space.
Her passion for the industry has led her to start her own HR Consultancy and Strategy agency -
CultureShift HR
. As Founder and Principal, Alysha uses her business acumen to help companies utilize and engage their best talent while creating purposeful work environments that help businesses grow and thrive.
Through her experience and foresight in the Canadian, US and International talent space, Alysha has developed an eye for talent engagement patterns and the resulting effects on culture. As a speaker and entrepreneur, Alysha partners with and teaches organizations her proven process on how to align their talent with corporate objectives to achieve more and increase profitability. She enjoys sharing the secrets of the trade to help business discover the benefits of a high-performance culture, the increasing value of employee engagement, in addition to the ins and outs of talent acquisition.
Within Alysha's business practices, she encourages companies to embrace the "Employee First" philosophy that focuses on shifting the culture dynamics and encouraging recognition of positive results and behaviours. Ultimately this leads to greater employee engagement, customer service and recurring revenue allowing clients to stay competitive in their respective industry and labour market.
Alysha is a graduate of the University of Ontario Institute of Technology, where she earned a bachelor's degree in Commerce.
You can learn more about Alysha
here
and connect with her here:
Facebook
|
Twitter
|
Instagram
Click
here
to watch her session on "Creating a Culture of Belonging Through Empathetic Leadership."
Catch up with all our past sessions on our YouTube Channel
here
.
You can also check out our full event listing
here
.
TorontoJobs.ca is a full-service recruitment organization, including TorontoJobs.ca Website, Career Fairs, full-service Recruitment Division and Outplacement Services. The local focus and advanced features make TorontoJobs.ca a vital asset for both job seekers and employers within the Greater Toronto Area. Visit our Online Career Centre for additional articles on Career Development, Personal Branding and more!
View All Articles