Different Ways to Manage Talent in Offshore Development Centers
Posted: 08.03.2021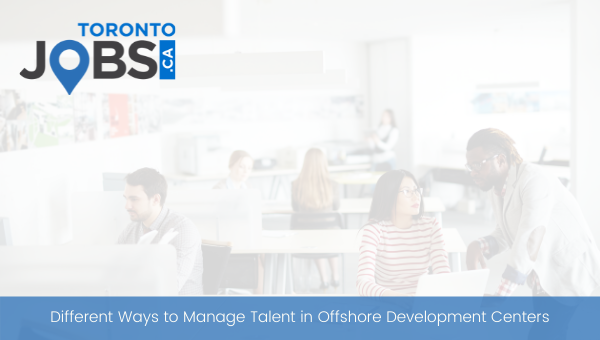 Modern companies that want to be on top of the mountain are constantly looking for ways they could enhance their performance and hence be successful. One of the ways it could be done is building an Offshore Development Center. This is a well-thought, strategic choice for outsourcing.
The ODC or Offshore Development Center model is designed for customers whose strategic goal is to empower their own development department with the resources of an external IT partner. Needless to say, the team of such a dedicated center is usually fully integrated with the internal team of the customer despite the possible time differences.

Source:
Mobilunity
Main Functions of a Dedicated Offshore Development Center
In many ways an ODC is an off- or near-the-shore representative of the client's company. But, they follow the same rules and policies while promoting the same brand as the original company. Very often this kind of team is diverse and includes specialists from different areas. The task of the offshore development center is to provide the development team with all the necessary IT infrastructure and personnel, including administrative and auxiliary human resources that are necessary in the development process. As a rule, such a center is led by a high-level and rank manager.
How to Set a Dedicated Offshore Development Center
Source:
Mobilunity
Setting an ODC can be quite simple if you come prepared. To make sure you know what you're doing, we've prepared a step-by-step instruction on how to properly set this team.
Step 1: Pick the location.
It's not hard finding a remote development team nowadays. There are plenty of outsourcing destinations out there that are offering low costs and fast execution, for example, you could hire a
programmer from Ukraine
. However, apart from trying to minimize your expenses, it is also important to look at the skill level of your potential team.
Step 2: Find a Trustworthy Vendor.
It is important to conduct some prior research before you choose the company you want to partner up with. Picking the right vendor at this point is crucial as they will be your guide in complying with local aspects of doing business.
Step 3: Find an Office.
Your team will be more productive if you set up a space for their work. Contact local realtors to help you with finding the right office.
Step 4: Hire a Lawyer.
Operating in another country requires you to have a local lawyer. They will be able to consult you on local laws and regulations and keep your team's activity legal.
Step 5: Recruit Your Team Members.
Finding the right people can sometimes be complicated. To make sure you hire the best, you should come up with a list of skills and qualifications. Make sure your HR team is on the same page about your hiring needs as well.
Best Ways to Manage Talent in Offshore Development Centres
Finding the right team is complicated but the bigger challenge comes with its management. Below you can find some of the best practices for the ODC management:
Give them a chance to share your vision. An offshore team should clearly understand your business goals and share them. You won't personally be with them to consult on every step of the way so dedicate some time from the start to consult them;
Make sure your working hours overlap. You'll need at least several hours per day to catch up with your team. Video chats are usually the best option for such online meetings;
Assign a manager. Every team needs a manager who will supervise their work, provide guidance and feedback, and make important strategic decisions;
Main Tools for Managing Offshore Teams
Modern business and world realities require us to find creative ways to stay connected, talk to your work friends and share knowledge and experience. When setting up a dedicated development team, it is especially important to streamline communication across your branch and the head office. Luckily, there are plenty of tools that can help you out. In order to stay productive and connected no matter the distance, you can use video call or conference call software such as Zoom, Skype, Meet or MS Teams. Of course, there are other more niche vendors, but these four offer the best-in-class tools for staying connected and productive.
Video call software is obviously a must-have when it comes to group meetings or one-on-one's with a line manager, but when it comes to day-to-day communication there's no better alternative to instant messengers. We're not talking about social media here, but rather apps that combine chat functionality, automation and convenience of offline communication. Such tools as Slack, Discord, Telegram and MS Teams are excellent choices for the task.
Communication is a very important part of building a successful offshore software development team. However, to keep the things running smoothly and in order to track the tasks – you must utilise some trackers, typically coming in a cloud-based package. Jira, Asana, Trello, Clubhouse, Click-up – all of the options work just great when it comes to keep the operations running while being transparent about the tasks and duties the team performs. And when it comes to larger teams, sometimes things can be lost in a hurry, which is not ideal.
Summary
Having an offshore software development team can be very beneficial for any type of business as it saves you time and money, one of the most important resources in today's business world. It is important to know how to deal with this successfully as it plays a big role when it comes to getting results. ODC's goal is to provide scalable technology resources to eliminate unnecessary costs. Typically, the client company directly oversees the offshore development center services, interacting with the team members responsible for implementation through the project manager. The main advantage here is that ODC helps to speed up the development of large projects, especially when they have more than 25 developers involved. This is where ODS is a viable working model. Otherwise, you should consider the outstaffing model.
Author Bio:
Anastasia Stefanuk is a passionate writer and Information Technology enthusiast. She works as a Content Manager at Mobilunity, a provider of dedicated development teams around the globe. Anastasia keeps abreast of the latest news in all areas of technology, Agile project management, and software product growth hacking, at the same time sharing her experience online to help tech startups and companies to be up-to-date.
View All Articles