5 Resume Tips to Get Recruiters to Notice You In 2021
Posted: 09.27.2021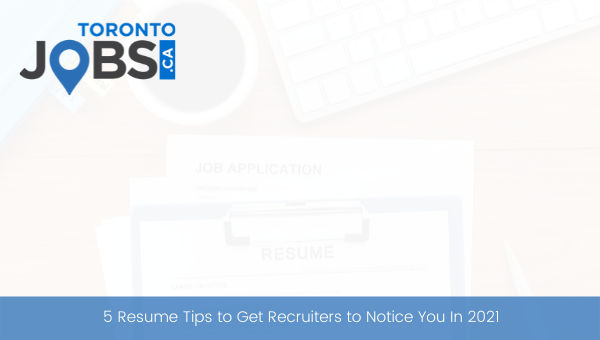 With labour markets still reeling from the effects of the pandemic, people everywhere are still struggling to find employment. Job recruiters are receiving a higher than usual volume of applications per posting. Therefore, it's important to write a resume that stands out from the rest of your competition.
5 Resume Hacks to Help You Land an Interview with a Recruiter
Your resume does not need to get you the job, but it needs to get you noticed by the recruiter. This can be a difficult task when recruiters receive a large number of applicants for the same posting. Here are a few tips to help your resume get noticed.
Tailor Your Resume Specifically to the Job Posting
It's one of the oldest tricks in the book and for good reason. Hiring managers tend to respond to resumes that are specifically tailored to the job opening they posted. It demonstrates exactly why they're qualified for that position. A good strategy is to read the requirements of the posting, identifying keywords, and then reviewing your resume to see where you can include these keywords. Some applicants include it in their summary, but if you have no room for one on your resume, scatter the words throughout your skills and experiences.
"Fine-tuning your resume based on the job posting shows that you actually took the time to read the posting," says Grace Powell, a career blogger at
1 Day 2 Write
and
Write My X
. "Far too many applicants just mass send generic resumes out to recruiters without even checking to see if they're qualified."
Format Your Resume Concisely
Never underestimate the power of a clean and concise format when it comes to resumes. Since they are typically pressed for time, recruiters and hiring managers appreciate short and clear resumes. Keep your resume down to one page if possible. Use a reverse chronological order for your experience, listing your most recent job experience at the top followed by your job before that and so on. Another format tip is to use easily legible font. You'll never go wrong with Arial or Times New Roman, but if you want to stand out a bit more, try fonts like Calibri or Muna.
Highlight Your Achievements
A good resume highlights all of your best achievements. Each bullet point under your job experience section should describe something you accomplished in that role. If you're able to quantify the measure of the accomplishment, ensure you do. Numbers tend to be noticed by recruiters more than words in your resume. Use action words at the start of each bullet point. For example, if you have experiencing training other team members in your previous role, specify the number of people and the duration of time you spent training them. You want the recruiter or hiring manager to understand the impact you made in your previous role. This allows them to better decide whether you're the right fit for the role and for the company.
Include All of Your Experiences
Don't feel limited to listing your work experience. You gain skills and expertise outside of work constantly. For example, if you're applying for a teaching position but have no formal experience in the field, include any experience you had as a volunteer or intern. Perhaps, you have experience tutoring children to read at your local library or you spent a semester as a teacher's assistant in an elementary school. These experiences are highly relevant and should not be excluded from your resume.
"Include all experience pertinent to the role in your resume," advises Michael Cunningham, a business writer at
Britstudent
and
Nextcoursework
. "This includes unpaid experience such as volunteer work and internships."
Include Soft Skills as Well as Hard Skills
While it is important to highlight your hard skills in your resume, your soft skills could be the difference between you and another applicant. Soft skills can include time management, problem-solving, and critical thinking.
Conclusion
Remember that recruiters and hiring managers are dealing with more applicants per job posting than ever before. Don't get discouraged if they don't contact you. Just keep editing your resume according to the specific job posting you're applying for, formatting it concisely, and highlighting all of your achievements, experiences, and skills. Keep your head up because a recruiter is bound to notice you soon.
Michael Dehoyos is a hiring manager and editor at
Dissertation Writing Service
and
Write My Thesis
. He often writes about career success tips and guides, and contributes to numerous sites and publications. Also, he is a writer at
Origin Writings
.
View All Articles