12 Online Based Careers You Can Start Right Now
Posted: 10.26.2021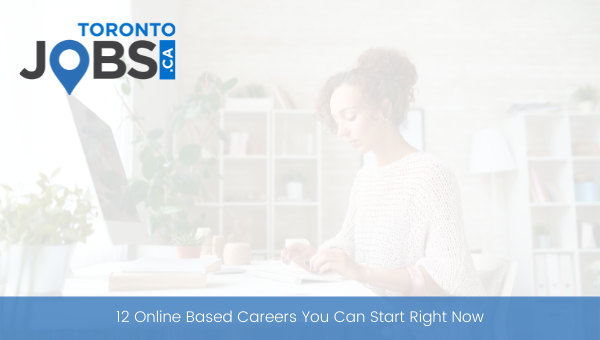 Thanks to the rapid technological advancement work from home
jobs
have been on the rise for several years now. The ongoing pandemic has also accelerated the growth of this industry. You don't have to spend a lot on gas or waste your precious time commuting. Today, there are a lot of amazing online jobs that you can find. And the best part is, you don't need to be qualified to start working and earning money. In this post, we are going to share with you the top twelve online-based careers that you can start in the comfort of your home today to fatten your wallet and have enough time for your hobbies. Let's get started!

1. Online tutoring
If you loved or performed well in a specific subject, it's easy to think that everyone else is having an easy time with the subject. However, it's not true. There are a lot of people who struggle to pass the subject. You can earn a few extra bucks by teaching them what you know and helping them out. Your tutoring should not stop with college students. You can also help high school and elementary school kids. Thanks to the internet, you can reach students from different parts of the world

2. Social media manager
Most of us spend a lot of time on social media platforms every day. If you can motivate others using your posts or if you normally get a lot of comments and likes, you should consider turning this into a profession. Social media managers help organizations and building communities to help them engage and encourage them to take action. The action could be signing up on their platform, reading a blog post, or purchasing a product. Social media managers help in building brand awareness for organizations.

3. Freelance writer
Freelance writers create content that social media managers promote in the digital space to build relationships and boost sales. Today, there's a huge demand for writers since most organizations want to build trust with their customers. And one of the best ways to do this is by providing high-quality content. Successful freelancers stay up to date on the current trends and know the content types that work best at a particular time. They are skilled in creating content that converts lead to potential customers. To get paid well, you need to stay out of bidding sites. Get out and market yourself to your target market.

4. Resume writer
The work of a resume writer might seem like a walk in the park. However, most people usually have a hard time communicating their achievements with potential employers. If you've been submitting resumes to uk.bestessays.com and getting excellent feedback, you should consider offering this service to others. You can help other peoples' resumes reflect on their accomplishments and the value they'll provide to organizations.

5. Transcriptionist
The work of a transcriptionist is to listen to recordings and write them down. To become a successful transcriptionist, you need to be accurate. You need to have great attention to detail. This job requires you to type quickly. The faster you do your job, the more you'll earn.

6. Web designer
Similar to freelance writers, web designers should market the services that they offer if they want to fatten their wallets. Websites usually market what you offer. Therefore, if you want to get more customers and boost your sales, you need to hire a good web designer.

7. Virtual recruiter
Recruiters are responsible for posting jobs online and looking for the best employees. This mostly happens on LinkedIn. They find resumes sent to them and decide which candidate they will hire.

8. Search engine evaluator
Search engines like Bing and Google rely on feedback from users to update their algorithms and serve people better. You can earn a few extra bucks by filling forms and letting people know what they need to do to improve.

9. Freelancing at Fiverr
Fiverr is one of the leading platforms in the digital space which offers anything ranging from digital marketing, graphics, writing, tech advertising, animation, music, and lifestyle. This is the best place to make money out of your profession and creativity.

10. Bookkeeper
Do you love finance? If yes, you should consider offering bookkeeping services. Most businesses need a bookkeeper to help them track their finances and manage them. Bookkeepers record income and expenses, prepare financial reports, and invoice clients.

11. Personal trainer
If you love fitness and exercise, you should consider applying for personal training gigs online. You can train anyone at any time with online coaching using platforms such as Skype or Zoom.

12. SEO Experts
There are a lot of organizations that are looking for individuals that can help them improve their websites' rankings n search engines. You need to be good at optimizing existing content and building backlinks for websites.

Conclusion
There are lots of job opportunities in the online space. All you have to do is know what you are good at and search for people who require the service. Which online job will you start looking for today?
Justin is a marketing specialist from Leicester, UK. When not working and rooting for Leicester FC, he likes to discuss new trends in digital marketing and share his own ideas with readers on different blogs and forums. Currently, he is working as a content marketer at uk.bestessays.com and best essay writing service.
View All Articles