How A Resume Profile Will Help You Secure That Interview
Posted: 11.16.2021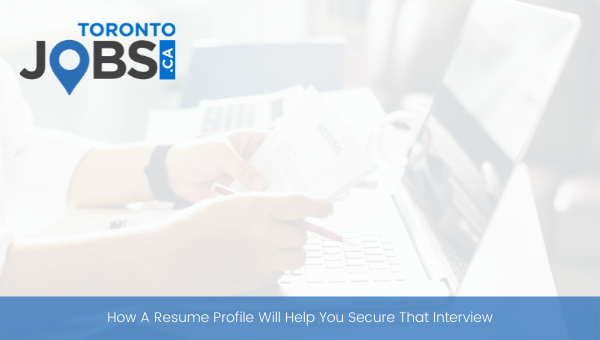 You've worked so hard to create the perfect resume. You've followed all the rules, from using the keywords from the job posting to ensuring that you're listing all your achievements. The problem is, even after all this your resume can feel somewhat impersonal. That's where a resume profile can make all the difference. Here's what a resume profile is, and how to write one.
What Is a Resume Profile?
Firstly, you've got to know what a resume profile is before you can craft one for yourself. There's not a real consensus on what a profile is, but typically it's a few lines written at the top of your resume, to give the reader a feel for who you are.
'It's somewhat different from a resume summary, as you're actually introducing yourself as a professional' says Aniqa Benton, a career blogger from
Eliteassignmenthelp
and
Essay Services
. 'This is kind of like speed dating, where you're telling the recruiter all about yourself in a limited time.'
When To Use a Resume Profile
Essentially, anyone looking to secure an interview can benefit from a resume profile. There are some job seekers that will especially be able to benefit from them, though. This includes people that are looking to switch careers. The profile shows that yes, you are looking to make the move into this industry, and it shows why.
If you're an entry-level candidate who's fresh from school, it also helps tie together your education and experience. As you don't have a lot of work experience yet, you'll be able to use the profile to show what challenges you're looking to tackle, and what you want to achieve.
What To Put in Your Resume Profile?
If you want to use a resume profile, then you'll need to think about what needs to go in it. What do you want to get across to the recruiter? What's the most important thing that they must know about you? There are several things that you may want to put in, including:
Your relevant skills and experience.
Achievements and accomplishments.
How many years of experience do you have?
Your professional strengths, including both hard and soft skills.
Personal traits that contribute to your work.
Willingness to relocate if needs be.
How To Write a Resume Profile?
Ready to write? There are a few things you need to know before you get started.
Keep it short: Your profile should be no more than four sentences or bullet points. You want to stick to the relevant points only. You can use either but remember bullet points take up more room on the page. Switch the sentences if you need to save space.
Make it true to who you are: Ideally, you'll want to tailor your profile to each job that you apply to. 'You want to show employers that your skills and experience match the kind of person they want for the job' says writer Cain Maynard, from
OXEssays
and
Revieweal
. 'However, make sure that you're not just telling the recruiter what they want to hear.'
Quantify your accomplishments: If you're referring to any accomplishments, make sure that you're adding in numbers, percentages, and any other metrics you have. This helps the recruiter see just how much of a difference you've made in your field.
A Resume Profile Example
What does a resume profile look like? It'll be different for everyone who writes one, but it's always helpful to see an example. Here's what a career changer's profile may look like:
A quality control team lead with over 10 years of experience, focusing on making business decisions that will further the company's goals. Making the switch to the outdoor recreation industry after the COVID-19 pandemic, which showed just how often children stay indoors. Looking to bring experience in quality assurance to a management position, helping people get outside and enjoy outdoor recreation.
With these tips, you'll be able to create your own resume profile and show potential employers just what makes you so special. With that info, they can then bring you in for an interview, getting you that one step closer to the job.
Emily Henry is a writer creating content for Write My Assignment and Big Assignments. Her work focuses on the topic of leadership. She also tutors with Top Canadian Writers
.
View All Articles