Canada's unemployment rate falls to record low at 5.3%
Posted: 04.08.2022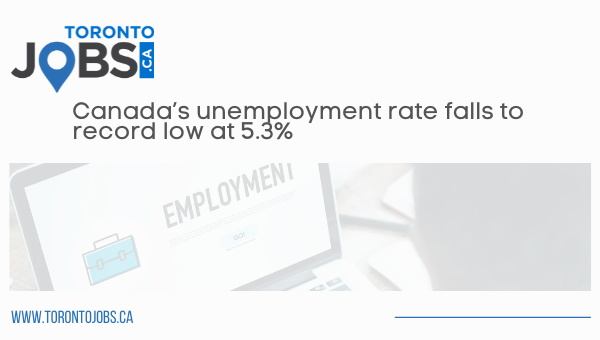 In March, the unemployment rate fell by 0.2 percentage points to 5.3% - the lowest rate on record since comparable data became available in 1976. The previous record low was observed in May 2019 at 5.4%.
Also below pre-pandemic levels was the number of people who wanted a job but did not look for one. This was at 7.2%.
Employment rose last month by 73,000, which was driven by an increase in full-time work by 93,000. Job numbers rose in both service-producing industries by 42,000 and goods-producing industries by 31,000.
Growth of employment was also seen in workers aged 55 and older, increasing by 39,000 in March, which included an increase of 25,000 among women aged 55 and older.
Employment among men in the core working-age group of 25 to 54 was also up by 35,000 in March, primarily in part-time work. Among core-aged women, total employment was little changed.
Employment held steady in March for both male and female youth ages 15 to 24.
Workers who normally reported working from home throughout the pandemic have continued to decline in March, down by 1.8% to 20.7%. This is for people between the ages of 15 to 69 years old, not seasonally adjusted.
Alongside these numbers, workers who reported hybrid working arrangements continue to grow. It is up by 1.4 percentage points from February to 5.9%. Hybrid working arrangements are more common among professionals in the scientific and technical services, but there has been an increase in hybrid arrangements for those in finance, real estate, rental and leasing, and information, culture, and recreation.
To read more, you can visit Statistics Canada's report
here
.
View All Articles