Upcoming Job Seeker Webinars
Posted: 11.14.2022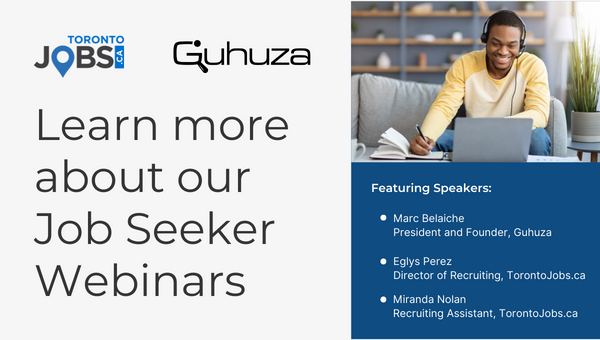 How to Stand Out as a Job Seeker
When: Wednesday, December 7th, 2022
Time: 12:00 - 12:30 pm
Learn how TorontoJobs.ca can help you take your job search to the next level!
Join our interactive 30-minute webinar & Q&A Session hosted by Eglys Perez, Director of Recruiting, and Miranda Nolan, Recruiting Assistant at TorontoJobs.ca as they discuss:
- Creating your perfect resume.
- Strategies and planning for job seekers.
- Enhancing your interview skills.
- Networking with professionals.
- And more!
Register for free here:
https://us02web.zoom.us/webinar/register/WN_P2bMwXx6TNCLE3W0LOXP0w
---
It's a New Year! Why Not Try a New Job Search Method?
When: Wednesday, January 11th, 2023
Time: 12:00 - 12:30 pm
Tired of applying to jobs with no success? Frustrated with reading lengthy job descriptions and tweaking cover letters and resumes?
Level up your job search with Guhuza!
Powered by
TorontoJobs.ca
, Guhuza overcomes these challenges with live interview technology!
Join our webinar and Q&A Session hosted by Marc Belaiche, President, and Founder of
Guhuza.com
.
We'll demonstrate how to navigate the platform and answer any questions you might have.
Register for free here:
https://us02web.zoom.us/webinar/register/WN_j31DReTvRGuHezD_gjSXYw
View All Articles