Collaborate on high-powered media campaigns by securing one of these creative marketing or PR jobs located in Toronto, the GTA, and Mississauga. Explore a Wide Selection of Marketing & Public Relations Jobs available in the Greater Toronto Area Below.

TorontoJobs.ca is looking to expand our team! Exciting growth is happening within our organization for 2020 and...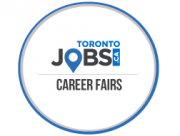 The Spring 2020 #TOTechCareerFair is coming up on March 11 in Toronto and we are currently looking for event...