Company Description:
Homeowners have traditionally been faced with a number of dilemmas when it comes to screens. Traditional, framed screens are often functional but cover the decorative details and finishes of door systems, detracting from the home's appearance from the street.
Phantom Screens' specializes in providing screening solutions that are both attractive and functional. Phantom's wide variety of products can be used with literally any door, window or large openings, with retractable screens that disappear from sight when not in use. Double doors – which are particularly difficult to screen, are easily and beautifully screened with double Phantom screens, increasing airflow into the home through both sides of the doorway, while keeping insects out.
"Working with the beauty and quality of Phantom Screens makes my job so easy! When I finish an installation and the homeowner is thrilled with the look and function of the screen, it makes every interaction a pleasant one and every day a happy one."– Mike, installer since 2005
"Working with Phantom Screens is such a great experience. Not two days are alike, and every door or window application is unique, so I'm always growing my skills. When my customers are happy with my work, I feel so proud."– Phil, installer since 2010

For more information regarding Phantom Screens, visit our website at www.phantomscreens.ca
Company Info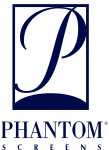 Ontario Screen Systems Inc.
14 - 1295 Eglinton Avenue East
Mississauga, ON, Canada
Phone
:
905-624-0824
phantomscreens.ca
Jobs by Ontario Screen Systems Inc.
There are no postings meeting the criteria you specified