Company Description:
We are a growing agency that offers web & mobile application development & design. We offer a variety of services including dedicated developer resource support and work on fixed projects and responding to RFP's by governments and businesses and selling online and other channels.
Some of our past clients include Motorola, Rogers, Fido, The Paul Getty Foundation, Oklahoma City, Coles and HP Intel.
Over the last 4 years, we have grown into a team of 30 members and are currently looking to scale by growing our sales team.
Company Info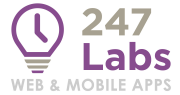 247 Labs Inc.
46 Spadina Ave, 4th floor
Toronto, ON, Canada
Phone
:
4164008440
http://www.247labs.com
Jobs by 247 Labs Inc.
There are no postings meeting the criteria you specified