Company Description:
We are seeking a candidate who can be a hands-on Strategic Sales / Operations Manager with excellent technical shop knowledge. The individual will report to the company president, and will be responsible for overseeing the daily operations within the company: sales, purchasing, warehousing and shipping, manufacturing, product development, quality assurance and production procedures.
Responsibilities
Set and oversee production schedules in order to direct the workforce, optimize plant resources and productivity
Plan production operations; establish priorities for manufacturing products
Coordinate manufacturing activities to ensure product quality meets specifications
Review production and operating reports, resolve operational and manufacturing problems to minimize costs and prevent operational delays.
Develop or revise standard operational and working practices and observe workers to ensure compliance with standards.
Perform job within acceptable safety, environmental, quality, productivity and performance standards as outlined by plant policies
Co-ordinate and review purchasing and material ordering plans to ensure shipment and production deadlines are met
Ensure compliance with applicable regulations issued by MOL and other government regulatory agencies
Review maintenance reports and resolve problems to minimize costs and improve operating efficiency
Oversee scheduling and completion of preventative maintenance tasks
Respond to inquiries or complaints by regulatory agencies
Work in a unionized environment
Required Skills
Bachelor's degree in Production Management, Business Administration, or Engineering
Technical knowledge of manufacturing, production, assembly line and materials processes
Understanding of processes, polyethylene roto molding and aluminum fabrication will be an asset
Knowledge of finance, accounting and legal issues to effectively manage a manufacturing operation with a workforce of up to 20 people
Operations and facilities management experience
Demonstrated project management experience with the ability to manage multiple priorities
Excellent technical writing skills coupled with strong verbal communication skills.
Highly analytical with proven problem solving skills
Strong leadership skills with the ability to coach and develop staff
Lead and promote Lean Manufacturing and continuous improvement projects
Experience working within budget constraints
Required Experience
Seven to ten years' broad operations, manufacturing and materials experience.
Company Info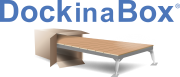 Dockinabox
2100 Industrial Park Rd.
Barrie, ON, Canada
Phone
:
705.431.5881 ext 3
www.dockinabox.com
Jobs by Dockinabox
There are no postings meeting the criteria you specified