Company Description:
As Seen on ABC's Shark Tank, HGTV's House Hunters, Blue Collar Millionaires and more...
When people hear our name, they often wonder who—and what—we are. Though junk hauling and moving are both in our name, we are that and so much more. College H.U.N.K.S. Hauling Junk & Moving® is the only full-service residential and commercial service company that offers moving, junk removal, donation pickups, and labor services in the United States and Canada.
With 120 franchise locations across the U.S. and Canada, College Hunks Hauling Junk and Moving® is the largest and fastest-growing junk removal and moving franchise opportunity. In 2015 CHHJM was named one of the fastest-growing companies. College Hunks World Headquarters is located in Tampa, FL and is recognized as one of the Top Places to Work, and known for its unique and fun company culture, CHHJM is an ideal place to flourish and grow as a professional.
COMPANY MISSION: To live our four core values of Building Leaders; Always Branding; Listen Fulfill and Delight, and Creating a Fun Enthusiastic Team Environment. To always provide our brand promise of a stress-free moving or hauling experience, and always provide our clients with H.U.N.K.S. (which stands for Honest, Uniformed, Nice, Knowledgeable, Service).
Building Leaders—At College H.U.N.K.S.®, we make it a point to inspire every team member, as well as our valued clients, so that we can all reach our maximum potential and achieve greatness.
Always Branding—We are always representing College H.U.N.K.S.®, and "Always Branding" means always striving for positivity, community-oriented service, and delivering 100% client satisfaction with every job.
Create a Fun & Enthusiastic Team Environment—We go out of our way to have fun while we work because that's what life is all about. As they say, if you have fun at work, you'll never "work" a day in your life. Having fun makes it easy to be enthusiastic, and enthusiasm is contagious. It's what brings us H.U.N.K.S. together as a team in the truest sense of the word.
Listen, Fulfill & Delight—When a client tells a College H.U.N.K.S.® team member about a problem, issue, or even just an interesting fact, we don't believe it's enough just to say, "that's interesting" or "sorry to hear that." As the nation's leading packing, moving, and junk removal company, our values demand that we do whatever it takes to fulfill the needs of those around us in order to satisfy clients and team members alike.
The College H.U.N.K.S.® Story
The Origins of Our Moving & Junk Removal Company
College H.U.N.K.S.® Hauling Junk & Moving was born in the summer of 2003 when 21-year-old Omar Soliman spotted an opportunity to earn a little extra money to spend during his summer break from college. His mom owned a furniture store in the Washington, D.C. suburbs, and Omar had noticed that during deliveries, customers would often ask if they could haul away old furniture. They were willing to pay $50 or more for the service. Recognizing a need — and determined not to spend another summer working a crummy job — Omar asked his mom if he could borrow her beat-up old cargo van and use it to offer junk hauling services. Later that night, he sat down with his best friend since high school, Nick Friedman, and started coming up with names for the business. Omar tossed out "College Hunks Hauling Junk," and everyone got a good laugh. Then they thought about it for a minute. You know, that's actually a pretty good name!
Omar used his computer to create some fliers, and the next day he started putting them up in the neighborhood. That evening, his phone started to ring, and they scheduled jobs from day one. The business took off and the pair realized that just about everyone had something they needed help removing from their homes. Without experience or much of a plan, the business made more than $8,000 that summer. The taste of entrepreneurship was exhilarating, but Nick and Omar weren't yet thinking about College H.U.N.K.S.® as a career. They had always been told to study hard, do well in school, and get a nice job working for someone else. They went back to school for their senior years — Nick at Pomona College in California and Omar at the University of Miami.
Winner of the Rothschild Entrepreneurship Competition
After the wildly successful summer, fate intervened. The University of Miami had just started the annual Rothschild Entrepreneurship Competition, which awarded a $10,000 prize to the best business plan and $500 to $5,000 for honorable mentions. Omar figured he could win at least $500 by writing a formal business plan for College Hunks Hauling Junk. He called Nick to tell him about the contest, and together they laid out a vision for a new type of junk-hauling company.
They knew what a ragtag junk-hauling operation looked like — that's what they ran in the summer of 2003 — and they knew that most junk haulers were the same. But they had a vision to build something much better: A fully branded and systematized operation for serving customers, using a customer call center to boost efficiency. The centralized job scheduling would allow franchisees to handle more jobs more quickly, resulting in more profits. Marketing, uniforms, and an emphasis on "WOW" service would create a great customer experience, ensuring repeat and referral business.
Omar spent six days putting the business plan together, dropped it off at the entrepreneurship office, and headed to the airport to join Nick and their buddies for Spring Break. When he returned, he learned that out of 150 entries, College H.U.N.K.S.® had been selected as one of 20 finalists. He was invited to give a presentation to a group of alumni judges consisting of business owners from all over the country. And he blew them away.
When he received the first-prize check for $10,000, he knew that "College Hunks" — an idea born over a few beers with buddies — had become something special.
From Award-Winning Plan to National Junk Removal Franchise
When Nick and Omar graduated from college, they took the normal path at first. They both landed office jobs, where they quickly became unfulfilled. Nick spent his days daydreaming about controlling his own destiny and owning his own business. He started surfing the internet to look at franchises for sale. Omar landed at a health-care research company. He had half a dozen bosses, no clear direction, and no path to high earning.
Is this really what they wanted to do for the next 40 years?
No! College H.U.N.K.S.® had been more fun, had offered more freedom, and had shown that it could generate much more money than their corporate salaries. A few months after starting the corporate grind, Nick emailed Omar to ask what his timetable would be for launching the business. Omar emailed back that his timetable was now.
The friends fleshed out their business plan, created a checklist, created an LLC, opened a bank account, and took out a small business loan to buy their first real junk-hauling truck. Since then, College H.U.N.K.S.® has been growing exponentially. We have opened locations nationwide and expect to quadruple in size over the next several years.
A Company with A Noble Purpose
Our purpose is to "Move the World" emotionally by eliminating stress for people who are moving or dealing with clutter, and by creating opportunities for entrepreneurs and hard workers who are eager to learn how to build a business. We do it by living out our core values.
Our Core Values, which we share with franchisees and train them to inculcate in their team are:
Always Branding — Always be professional and aware of how others see you, whether or not you are with a customer.
Building Leaders — Mentor employees to help them learn, take on responsibility, and advance in business and in life.
Listen, Fulfill, and Delight —Pay attention to others and show extra courtesy or add a little spark to their day
Create a Fun Enthusiastic Team Environment —The kind of environment in which morale is high and people flourish
It's more than just moving and junk removal. When working with potential franchisees, our mission is helping people find a fulfilling career where they can have a sense of purpose while also becoming financially independent. So many of our franchisees left their traditional jobs to buy a franchise because they wanted a greater sense of purpose. Their employees are the same — they want to be part of something with a sense of mission and teamwork, and when you create that environment, turnover drops and you get to watch people grow.
Our Vision
We are aiming to be the largest and most popular employer of professionally trained service providers and a launchpad for entrepreneurs who either start their own College H.U.N.K.S.® businesses or who use the lessons learned in our business to launch other concepts and power the economy. Our mission is to help people live the American dream of owning a business and making a positive impact.
College Hunks Hauling Junk - Mississauga is independently owned and operated by a franchisee. Your application will go directly to the franchisee, and all hiring decisions will be made by the management of that franchise. All inquiries about employment at this franchise should be made directly to the franchisee, and not to College Hunks Hauling Junk Corporate.
Company Info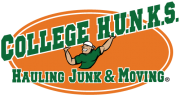 College HUNKS Oakville & Mississauga
Unit 4, 3190 Ridgeway Dr.
Mississauga, ON, Canada
Phone
:
6479711125
https://www.collegehunkshaulingjunk.com
Jobs by College HUNKS Oakville & Mississauga
There are no postings meeting the criteria you specified