5 Ways to Spring Clean your Job Search
Posted: 03.20.2017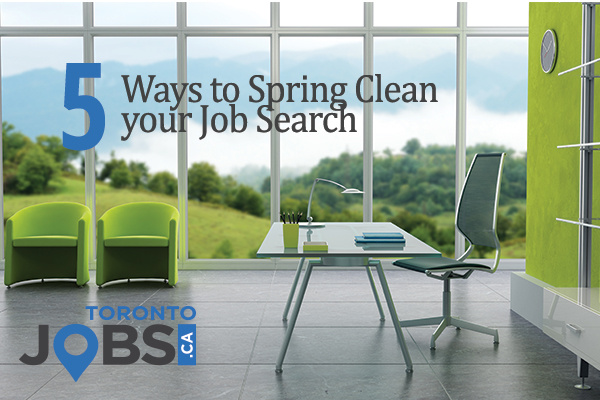 The first day of spring has arrived and many of us are thinking about the opportunity to get organized and start spring cleaning. Chances are that our homes are not the only place in need of some attention; the resume that you wrote a few months ago has probably become stale and your LinkedIn profile is showing gaps that may be turning off potential employers.
Why not do a little spring cleaning for your job search?
Top 5 Job Search Tips1. Create Professional Profiles on Social Networking Sites:
Many Recruiters are now using social networking sites such as Twitter, LinkedIn and Facebook to recruit, network and to also do background checks on current candidates they may be interviewing. Now is the time to clean up your profile, update your information and view what others see on your profile.
2. Set Realistic Goals for the remainder of 2017:
Write down a plan which should include goals, how these goals will be achieved and how often successes and progress will be tracked (should be every 2-3 months). Setting goals will not only keep your focus but will also increase self esteem and confidence as goals are achieved.
3. Develop a "Plan B":
Always keep the idea that "anything can happen" in the back of your mind. With uncertainty in the employment industry over the past few years it's a good idea to be prepared. Get your resume up-to-date and have family members or friends review the document for accuracy, ramp up your networking, practice your elevator speech and research common interview questions.
4. Focus on Developing your Professional Network:
Most career changes are as a result of networking. It's a proven statistic that approximately 80% of jobs are found through who you know. Keep in touch with old friends and family members as you never know who might be able to help you down the road in your job search. Joining associations within your field will also allow you to develop relationships and gain contacts within your line of expertise.
5. Develop a Proactive Approach for Development:
This might mean spending less time on personal activities such as shopping and hanging out with friends and spending more time on developing new skills, acquiring knowledge by participating in assignments (personal or professional), volunteering and reading industry related books and news articles.
Written by Rachel Mitchell, Manager, Business Development, TorontoJobs.ca. TorontoJobs.ca is a full-service recruitment organization, including TorontoJobs.ca Website, Career Fairs, full-service Recruitment Division and Outplacement Services. The local focus and advanced features make TorontoJobs.ca a vital asset for both job seekers and employers within the Greater Toronto Area. Visit our Online Career Centre for additional articles on Career Development, Personal Branding and more! www.TorontoJobs.ca.
View All Articles