HOW TO MAKE YOUR CAREER FAIR VISIT A SUCCESS
Posted: 02.18.2020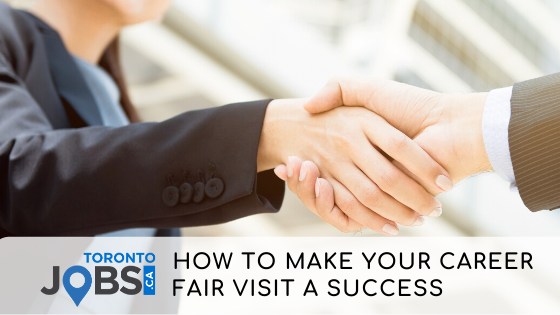 There is more to career fairs than just handing out resumes (although that's an important part). Properly preparing for one can be the difference between standing out to potential employers and getting lost in the crowd.
Ahead of the TorontoJobs.ca Toronto Career Fair
on Wednesday, Mar. 25th (10am-3pm, Roy Thomson Hall), here are some tips to help make any career fair visit a success!
Prepare your resume: There's nothing worse than making a great connection with a hiring manager and not having a solid resume to back it up. Before to the event, update and proofread your resume (and then get someone else to proofread, and then proofread again) before printing copies. For an idea of how many copies to bring, see the next tip.
Research the exhibitors: Prior to a career fair, you can typically find a

list of exhibitors and/or open positions

online. By doing some research, you can get an idea of how many companies you might be interested in working for. Have 1-2 copies of your resume printed for each company of interest, and an additional 5-10 copies for companies you build an unexpected connection with on the day of the event.
Don't underestimate the first impression: The term "dress for success" is valid when it comes to career fairs. Regardless of the type of position you might be interested in applying for, dressing professionally or in business attire helps employers see you as a candidate who takes their career seriously. Be sure to smile, introduce yourself with a firm handshake and have a resume ready to hand over as you engage in conversation.
Prioritize exhibitors: Researching participating businesses in advance not only gives you an idea of how many resumes to bring but helps to create a plan of action for the day. You might want to start out speaking with a few exhibitors that you have less interest in – this will allow you to hone your approach and build up your confidence. It will also give you an idea of the types of conversations you'll be having and how long they'll take. When you're feeling more comfortable, it's time to visit your top choices.
Give yourself plenty of time: Remember that your top priority exhibitors might also be the top priority of many other attendees. Be sure to account for waiting times to speak with exhibitors and build in ample time for other unexpected networking opportunities!
Keep devices off/silent: Just like in a traditional job interview, having a conversation interrupted by your phone beeping or buzzing is distracting and unprofessional. In the case of a career fair, there are already many other distractions – don't let your phone be one of them. (For other interview-related tips, click

HERE

.)
Follow up: Proper follow up actually begins during the career fair. Have a pen handy for making notes on the back of business cards or in a notebook. You'll want to record details about positions that are discussed, jobs you've applied to or other key contacts within the company. After the event, send follow-up emails as soon as possible to potential employers. Be sure to thank them for their time and express interest in discussing further opportunities. It's also a good idea to attach your resume, even if you already provided a hard copy during the event.
Have a positive attitude (and be realistic): Just because you hand out a bunch of resumes doesn't guarantee that you'll be hired on the spot. By following the previous steps, however, you will be securing connections with influential people that could play a part in your career in the very near future or even down the road. It's important not to write off any new contact –you never know who they might be able to connect you with. Landing employment takes time and effort but stay positive – making the most of your career fair visit is an accomplishment in itself!
Want to put these tips into action?
CLICK HERE
to register for the Toronto Career Fair happening on Wednesday, Mar. 25th at Roy Thomson Hall from 10am-3pm.
Written by
Lindsay Ireland
, Marketing & Events Manager, TorontoJobs.ca.
TorontoJobs.ca
is a full-service recruitment organization, including TorontoJobs.ca Website, Career Fairs, full-service Recruitment Division and Outplacement Services. The local focus and advanced features make TorontoJobs.ca a vital asset for both job seekers and employers within the Greater Toronto Area. Visit our Online Career Centre for additional articles on Career Development, Personal Branding and more!
For more job and workplace related content from TorontoJobs.ca, please click
HERE
.
View All Articles