Economy added 246,000 jobs in August; unemployment rate at 10.2%
Posted: 09.04.2020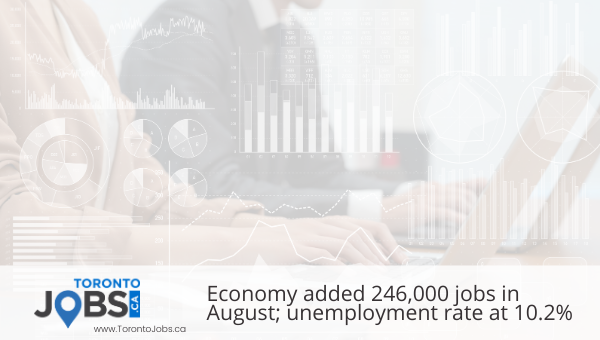 Economy added 246,000 jobs in August; unemployment rate at 10.2%
Statistics Canada reports that the economy added 246,000 jobs in August compared to July when 419,000 jobs were added.
The figure marked the fourth consecutive months of gains, bringing the number to within 1.1 million of its pre-COVID February level.
Employment increases last month were largely due to full-time work, which rose by 206,000, while the number of part-time workers was little changed.
The number of Canadians working from home also continues to decline. Among Canadians who worked their usual hours in August, the total number working from home fell by nearly 300,000 compared with July, while the number working at locations other than home increased by almost 400,000.
Employment also rose at a faster pace among women than men for the third consecutive month in August, as women gained 150,000 positions last month compared to 96,000 for men.
The unemployment rate fell by 0.7% to 10.2% in August. Statistics Canada says the unemployment rate would have been 13% had they calculated the number of people who wanted to work but did not search for a job.
Sources:
Statistics Canada
Toronto Star
View All Articles