Top In-Demand Skills for Today and the Future
Posted: 09.08.2020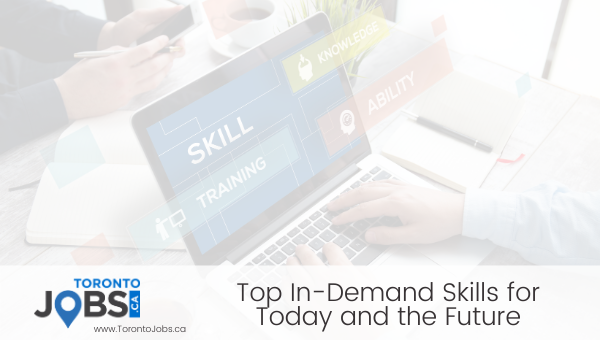 Top In-Demand Skills for Today and the Future
If you want to stay ahead of the curb, you have to think about the future. What will your industry look like in the next 10, 15, and 20 years?
In this
YouTube episode
, President of TorontoJobs.ca Marc Belaiche gives his insight into what skills he thinks will be highest in-demand now and in the future.
Virtual Workforce.
With more people working from home amid the corona virus crisis, a lot of businesses and organizations are realizing that working remotely is possible. This could mean that in the future, there could be more companies that look for candidates that can work from home successfully.
Social Media.
Understanding how to use various social media platforms will definitely come in handy – just look how technology savvy we already are and it will only progress. You'll deem yourself more competitive by being able to effectively share and network on these outlets.
Content Creation.
Knowing how to produce more interactive content will also be a huge plus. Whether it's writing a blog post, creating a catchy promo in Canva, or filming YouTube videos – this is definitely the way of the future. You can easily share these types of content on social media and it's convenient to access on any device for people to engage with.
Fast-paced Environment.
We live in a very fast-paced world, so naturally companies are going to be looking for ways to get tasks done more quickly and efficiently and on top of that – with less people. Being well versed in a wide range of skills will help you become more valuable if you are able to contribute to different areas in a business or organization.
Entrepreneurial Skills.
Even if you aren't an entrepreneur, being able to think like one will catch the eyes of businesses and organizations. Being able to:
Problem solve
Build relationship with clients
Sell
Having a basic understanding of how a business operates
Putting yourself in a more futuristic mindset will help you determine what additional skills you could learn to help you evolve with workforce changes. Having conversations with senior-level professionals is another way to gain feedback and advice about your industry. Reading the news and various blogs could also help you gather ideas about different trends.
Want more job tips from Marc? Click
here
to check out the TorontoJobs.ca YouTube Channel for more!
Interested in attending one of our virtual events? Check out our full events listing
here
.
Written by Sandra Toth, Marketing Coordinator, TorontoJobs.ca.
TorontoJobs.ca
is a full-service recruitment organization, including TorontoJobs.ca Website, Career Fairs, full-service Recruitment Division and Outplacement Services. The local focus and advanced features make TorontoJobs.ca a vital asset for both job seekers and employers within the Greater Toronto Area. Visit our Online Career Centre for additional articles on Career Development, Personal Branding and more!
View All Articles