Will working from home be the new normal? 82% of survey respondents seem to think so.
Posted: 09.10.2020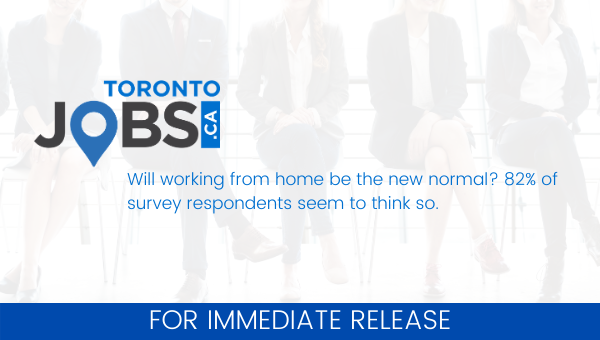 TORONTO, ON -
Working from home could become the new normal for a lot of companies. Despite the gradual re-opening of the province, corporations like the Royal Bank of Canada and TD Bank Group have already made the decision to keep its staff working from home until 2021 to further stop the spread of COVID-19.
With stay-at-home and social distancing measures in place for quite some time now, TorontoJobs.ca conducted a series of polls to survey our community on their thoughts on the continuation of working from home. Our results show:
49% of people would be interested in working from home 2-3 days per week
33% say they would work from home permanently on a full-time basis
18% would prefer to go back to working in the office
"To help flatten the curve and to maintain the safety of employees, staff are still working from home.
It has been a smooth transition and we are just as productive working from home as in the office. In the future, I can definitely see the business operating
both in-office and remotely," says Marc Belaiche, President of TorontoJobs.ca.
HERE ARE OUR TOP WORKING FROM HOME TOP TIPS:
1. Create a dedicated workspace.
Whether it's an actual office in your home or your dining room table, you should set up a specific place to work. Keep close notebooks, pens, and any other materials you may need to do your work. If you have kids home with you, set up a "workspace" for them as well to keep them occupied - like a building block area, craft station, etc.
2. Stick to your usual schedule.
Try and mimic your usual workday schedule. For example, if you typically start the day catching up on emails, followed by a conference call at 10 a.m., and special projects from 1-3 p.m., you should make an effort to follow the same breakdown of your day at home.
3. Communication is key.
Just because you aren't physically with your team at work doesn't mean you shouldn't be in constant contact. Respond to emails as quickly as possible and be sure to keep your supervisor and your co-workers updated with projects you're working on.
4. Take breaks.
It can be a little tricky to flip the switch when you're already working from home, but it's important to take breaks during the day to avoid burnout. Take some time to have lunch without sitting in front of your laptop, step outside for a couple of minutes to get some fresh air, stretch, etc.
ABOUT TORONTOJOBS.CA
TorontoJobs.ca was developed to be the source for employment in the Greater Toronto Area. We offer Employers the ability to posts jobs in any position, occupation, and industry. Our services are designed to connect local Employers to skilled candidates throughout the Toronto Area. Whether it's our online resume database, our always active job-board, our Career Fairs, or our Recruitment Services, TorontoJobs.ca provides Job Seekers and Employers with the tools necessary to reach employment goals.
Media Contact:
Rachel Mitchell
Phone:
(905) 812-5627 ext. 2291
Email:
rachel.mitchell@TorontoJobs.ca
View All Articles