Economy adds 378,000 jobs in September; unemployment rate fell 1.2%
Posted: 10.09.2020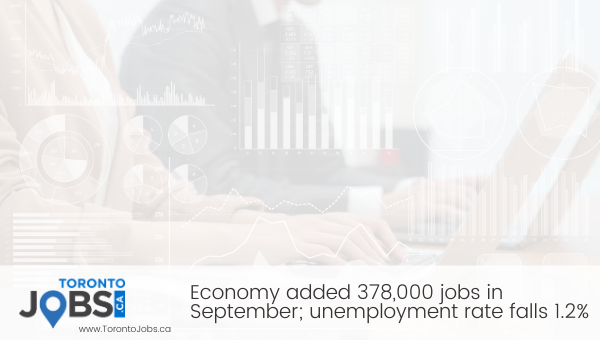 Canada added 378,000 jobs in September, an increase of 172,000 compared to August numbers.
The increase was mostly due to full-time work, as students went back to school and parents returned to work. Employment in educational services grew by 5% (68,000), led by Ontario and Quebec, after declining by 11.5% from February to April.
Mothers saw an increase of employment by 0.9% and for fathers jobs increased by 1.5% in September, which equaled to numbers back in February.
Employment growth was strong for young women and men aged 15-24 in September, with an increase of 5.7% or 62,000 for women and an increase of 6% or 66,000 for men. Despite this, employment for Canadian youth remained 10% below February levels.
Self-employment was little changed in September, compared with February it was down 6%, while the number of employees was within 3.3% of its pre-pandemic levels.
The unemployment rate declined for the fourth consecutive month in September, falling 1.2 percentage points to 9.0%.
Search Jobs
|
Recruitment Openings
|
Post Your Resume
|
Career Resources
To view our upcoming virtual events, click
here
.
Sources:
Statistics Canada
CBC
Written by Sandra Toth, Marketing Coordinator, TorontoJobs.ca
View All Articles