Listen to Dean Kulaweera's Recording from our Past Virtual TECH Hiring Event
Posted: 11.10.2020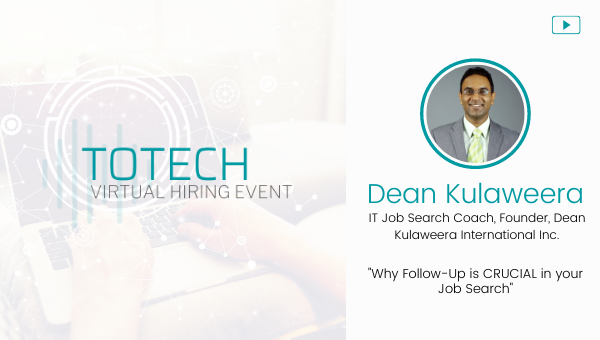 Check out Dean Kulaweera's speaking session from our past Virtual TECH Hiring Event.
Dean Kulaweera is an IT Recruiter who has specialized in the Recruitment of IT Professionals in organizations ranging from startups to large-sized, multi-national corporations seeking IT Talent across the Greater Toronto Area and Ontario. He has recruited on a variety of roles within IT both technical and non-technical.
In addition to his primary function as an IT Recruiter, leveraging his real-world experience in recruitment, Dean is a very active content creator on LinkedIn, YouTube, Facebook, Twitter, Instagram, and has his own Podcast where he posts a variety of information, articles, live video streams, and recorded videos pertinent to job search and recruitment cycles, and has built a following of 21,000+ on LinkedIn alone.
Dean is a graduate of York University with an Honours BA in Information Technology.
You can learn more about Dean
here
.
Click
here
to watch his session on "Why Follow-Up is CRUCIAL in your Job Search."
Catch up with all our past sessions on our YouTube Channel
here
.
Click
here
for a full list of our upcoming virtual events.
TorontoJobs.ca is a full-service recruitment organization, including TorontoJobs.ca Website, Career Fairs, full-service Recruitment Division and Outplacement Services. The local focus and advanced features make TorontoJobs.ca a vital asset for both job seekers and employers within the Greater Toronto Area. Visit our Online Career Centre for additional articles on Career Development, Personal Branding and more!
View All Articles