Tips for Hosting an Alternative Office Holiday Party
Posted: 11.18.2020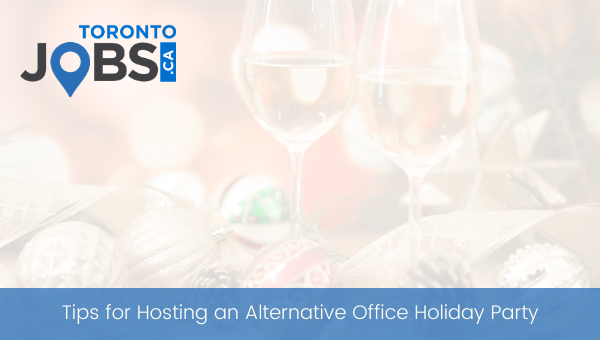 With the rising number of COVID-19 cases, it's a given that traditional holiday office celebrations are going to look a little different this year.
Some companies and organizations are opting out of celebrating completely, whereas others are trying to go virtual.
Whatever your business decides to do, below are some tips for navigating this time of year during uncertain times.
If you are opting out of celebrating virtually…
Make a charitable contribution as a company in lieu of an office party. Giving back to a local organization can make employees feel good about themselves and brighten their spirits by helping others.
Write a thank you email to your staff for all their hard work this year. This will especially mean a lot with the looming pandemic. With people in isolation from working at home, juggling kids at home, etc., showing your appreciation will mean a lot to your employees.
Write an email highlighting the company's accomplishments. There is no doubt the pandemic has had a huge impact on businesses and organizations, but sending an email focusing more on the positives at your company this past year can help motivate and boost morale among your employees. As an example, you could talk about how proud you are of your team for staying strong and adapting to a virtual environment.
Have everyone on your team wear an ugly holiday sweater to work one day. Take selfies wearing it and share the pictures with your team.
Send a holiday card – virtually. There are many free design programs, like Canva, that are easy to use. Wishing your employees a safe and restful holiday will definitely warm their spirits.
If you are planning a virtual holiday celebration…
Hire live entertainment during your company's video call. You could get a local comedian, magician, or musician, for example. Check out this website for some ideas.
Hold a cookie decorating competition. Local companies like Sweet Flour Bake Shop have cookie decorating kits you can deliver to each member of your team. Create a poll during your video call and may the best cookie win!
Deliver a local holiday meal to your staff and eat lunch together. Check out this article for a list of local businesses and restaurants offering holiday-themed menus.
You can play a variety of games over video call like holiday-themed trivia, Christmas movie charades, Christmas mad libs, or Name that Christmas Tradition. Click here for a list of more themed team-building ideas.
Have an awards show. You can make this fun by handing out silly awards like "who has the best ZOOM background" or "who is most likely to be on a ZOOM call first."
For past recordings from our virtual events and the latest advice in recruiting and HR, visit our Toronto Recruiters Conference & Tradeshow YouTube Channel
here.
For a list of our upcoming virtual events, click
here.
TorontoJobs.ca is a full-service recruitment organization, including TorontoJobs.ca Website, Career Fairs, full-service Recruitment Division and Outplacement Services. The local focus and advanced features make TorontoJobs.ca a vital asset for both job seekers and employers within the Greater Toronto Area. Visit our Online Career Centre for additional articles on Career Development, Personal Branding and more!
View All Articles