Four Unique Ways to Thank your Employees this Holiday Season
Posted: 12.18.2020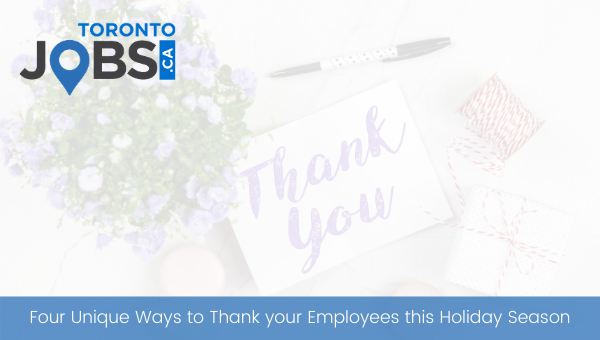 This year has been particularly tough on employees amid the corona virus pandemic.
In addition to typical work stressors, employees have delt with the changes of working from home, isolation from workplace culture, cut-back hours, or even fear of losing their jobs.
So with the year coming to a close, it's the perfect time to reflect on your staff and all their work this past year.
Below are some unique ways you can show gratitude for your employees.
1. Send them a personalized email.
Instead of sending one email to thank all your employees, perhaps you can try sending a more personalized message to separate departments or even each individual. Doing something like this allows you to make more specific compliments or connect with an employee on how they particularly fit into the company and align with your company's ideals.
2. Give real-time feedback.
Don't wait to give feedback... whether it's getting a new client or how they handled a specific project, you can compliment your employees on a job well done on the spot.
3. Replacing employee gifts with a company donation.
Instead of buying little gifts for your employees you can come together with your staff to think of an organization that aligns with your company's values and make a donation to them.
4. Give little perks.
It could be something as simple as allowing your employees to have a more flexible schedule during holidays or slower times of the year.
References:
Fortune
For more content you can check out our Toronto Recruiters YouTube Channel
here
.
Want to attend one of our upcoming virtual events? Click
here
to learn more.
TorontoJobs.ca is a full-service recruitment organization, including TorontoJobs.ca Website, Career Fairs, full-service Recruitment Division and Outplacement Services. The local focus and advanced features make TorontoJobs.ca a vital asset for both job seekers and employers within the Greater Toronto Area. Visit our Online Career Centre for additional articles on Career Development, Personal Branding and more!
View All Articles