Ask the Recruiter
Posted: 04.06.2021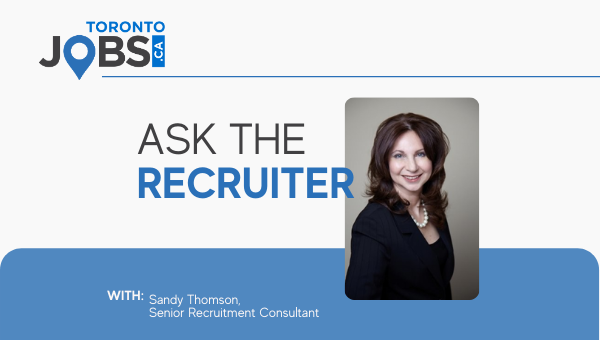 Whether it's a question about the current job market, how to make your resume stand out, or how to ace your video interview – we've got the answers for you.
Welcome to our new segment called: "Ask the Recruiter." It's where we'll answer your pressing questions about employment.
Answering your questions is our Senior Recruitment Consultant Sandy Thomson. She has over 20 years of experience in permanent full time, project and contractual consulting, and temporary staffing. Sandy prides herself on excellence in client and candidate service delivery and works across many industries and positions with a focus on accounting and finance, including public accounting firms.
Check out her answer to our first question below!
How can I be more effective in my use of job boards?
Job boards are a great place to start when you begin your search.
TorontoJobs.ca
, for example, gives you the ability to post your resume, sign up for alerts, and search for jobs using specifics like location and industry making your job search a whole lot easier and more effective.
Some tips:
Create a confidential profile.
Set up alerts for the type of role you are interested in; define specific parameters and keywords including location, position title, etc.
Ensure to include as many keywords as possible; in your profile and in your resume in order to capture as many postings (alerts) as possible that could be a good match and will advance you through filters.
Gather as much market intel as you can when you are reviewing postings and alerts as this will highlight hiring trends (companies that are making multi-hires in one department may indicate other opportunities in the company); companies setting up new offices in your area will expand your net.
Ensure that your LinkedIn profile and your resume are aligned.
Research hiring companies and industries of interest; cross reference to your own network for referrals or reach out directly to hiring managers.
Do you have a question for Sandy? Send us your questions to
info@TorontoJobs.ca
or reach out to us on our social media. Check us out on
Facebook
,
Twitter
, and
Instagram
.
Looking for more employment tips? Check out our
YouTube Channel
for more content.
Want to network with career coaches and employers? Check out our upcoming career events
here
.
TorontoJobs.ca is a full-service recruitment organization, including TorontoJobs.ca Website, Career Fairs, full-service Recruitment Division and Outplacement Services. The local focus and advanced features make TorontoJobs.ca a vital asset for both job seekers and employers within the Greater Toronto Area. Visit our Online Career Centre for additional articles on Career Development, Personal Branding and more.
View All Articles