5 Career Books for Job Seekers
Posted: 04.13.2021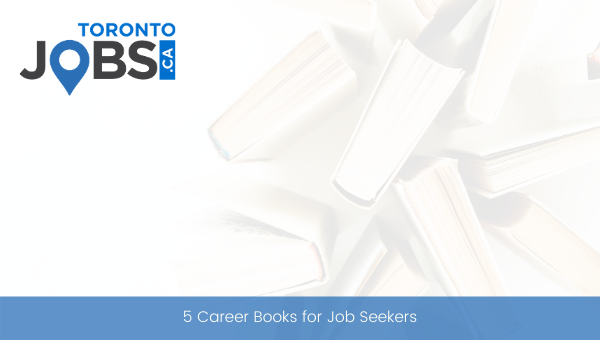 You can never be too prepared as a job seeker. There's a lot to think about when you are looking for a job, like how to effectively write your cover letter and resume, how to ace your interview, become a pro networker, etc.
It can be kind of daunting to think about, but the more prepared and knowledgeable you are, the smoother the process will be.
Below is a list of five career-related books to help kickstart your job hunting, confidence, and land you your dream job.
1. "Tales from the Recruiter: A Canadian Recruiter's Perspective on How to Get that Perfect Job" by Marc Belaiche, CPA, CA, President of TorontoJobs.ca
The best way of finding out what's in a recruiter's mind is to speak with them. After interviewing thousands of candidates and working with hundreds of companies, this book shares lessons from an experienced recruiter to help you find the best job available for you – regardless of where you live or the type of position you're looking for. This book is a must read if you are:
A job seeker looking for a new position.
A new graduate looking for your first job.
A new Canadian looking for your first job in Canada.
Someone who plans on moving to Canada.
Learn more
here
.
2. "How To Stress Less: Simple ways to stop worrying and take control of your future" by Benjamin Bonetti
With expert guidance from bestselling hypnotherapist and life coach, Benjamin Bonetti, you'll learn how to recognize stress and develop the awareness and ability to stop it in its tracks. Using simple tools and techniques you can use each day,
How to Stress Less
will show you how to:
Recognize and avoid triggers for stress.
Establish a healthier response pattern to life's challenges.
Prioritize your stressors and let the little things go.
Adjust your outlook to a more positive state.
Re-establish a healthy rhythm with daily stress management.
Learn more
here
.
3. "Do What You Are: Discover the Perfect Career for You Through the Secrets of Personality Type" by Paul D. Tieger
With the global economy's ups and downs, the advent of astonishing new technology, the migration to online work and study, and the ascendancy of mobile communication, so much has changed in the workplace since this book's fourth edition was published in 2007. What hasn't changed is the power of Personality Type to help people achieve job satisfaction.
This fifth edition is especially useful for millennials and for baby boomers experiencing midlife career switches. The book leads readers step-by-step through the process of determining and verifying Personality Type. Then it identifies occupations that are popular with each Type, provides helpful case studies, and offers a rundown of each Type's work-related strengths and weaknesses. Focusing on each Type's strengths, this book uses workbook exercises to help readers customize their job search, ensuring the best results in the shortest period of time.
Learn more
here
.
4. "So Good They Can't Ignore You: Why Skills Trump Passion in the Quest for Work You Love" by Cal Newport
In this eye-opening account, Cal Newport debunks the long-held belief that "follow your passion" is good advice. Not only is the cliché flawed, pre-existing passions are rare and have little to do with how most people end up loving their work, but it can also be dangerous, leading to anxiety and chronic job hopping.
After making his case against passion, Newport sets out on a quest to discover the reality of how people end up loving what they do. Spending time with organic farmers, venture capitalists, screenwriters, freelance computer programmers, and others who admitted to deriving great satisfaction from their work, Newport uncovers the strategies they used and the pitfalls they avoided in developing their compelling careers.
Learn more
here
.
5. "What Color Is Your Parachute? 2021: Your Guide to a Lifetime of Meaningful Work and Career Success" by Richard N. Bolles
In today's challenging job-market, as recent grads face a shifting economic landscape and seek work that pays and inspires, as workers are laid off mid-career, and as people search for an inspiring work-life change, the time-tested advice of
What Color Is Your Parachute?
is needed more than ever. This completely updated edition features the latest resources, strategies, and perspectives on today's job market, revealing surprising advice on what works—and what doesn't—so you can focus your efforts on tactics that yield results.
This practical manual has been fully revised for 2021 by Vanderbilt University Career Center Director Katharine Brooks, EdD, with modern advice on the job hunt strategies that are working today, such as building an online resume, making the most of social media tools to network effectively, interviewing virtually with confidence, and negotiating the best salary possible.
Learn more
here
.
For more career tips and advice, you can watch all our videos on our TorontoJobs.ca YouTube Channel
here
.
Want to attend one of our upcoming virtual events? Click
here
to learn more.
TorontoJobs.ca is a full-service recruitment organization, including TorontoJobs.ca Website, Career Fairs, full-service Recruitment Division and Outplacement Services. The local focus and advanced features make TorontoJobs.ca a vital asset for both job seekers and employers within the Greater Toronto Area. Visit our Online Career Centre for additional articles on Career Development, Personal Branding and more.
View All Articles