How the Administrative Professional Role Could Change Post-Pandemic
Posted: 04.21.2021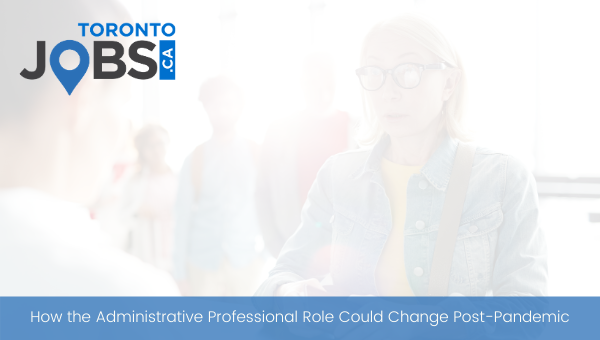 The role of the administrative professional has changed a lot over the last year as a result of COVID-19.
For those who are working at home, scheduled staff conferences have changed to coordinating virtual ZOOM meetings, as is the same for customer appointments and consultations. For those who work in essential workplaces, many administrative professionals have added other important duties like sanitization and symptom screening.
But what will the role look like moving past the pandemic?
Below we discuss a few ways the role of the Administrative Professional could look like post corona virus.
Visitor Management Duties
Once in-person visits resume again, there will be major changes in the way administrative professionals handle clients and customers. You may have seen some of these changes already during more "open" times during the pandemic.
Asking if visitors have travelled recently, if they exhibit COVID-19 like symptoms, and sometimes they'll take their temperature.
Distributing masks to visitors, ensuring they are keeping socially distanced, and increasing sanitizing practices after each visitor.
Keeping a record of who was in and out of the building each day.
Emergency Planning
If corona virus has show us anything, it's that we need to be prepared. Post-pandemic we could see many businesses and organizations look beyond planning for emergency situations like a fire and plan for situations like supply chain issues and of course, better processes when offices can't work in person.
With administrative professionals already keeping track of people coming in and out of buildings and distributing masks, they could be the best people to take on planning emergency preparedness.
Removing the "Front Desk"
With many businesses and organizations embracing remote work as a result of the pandemic, there may not necessarily be a need for administrative professionals to be at the front desk.
Less visits coming into the office with virtual appointments available.
Virtual check-in programs could eliminate the need for an administrative professional to be in the lobby.
These changes could free up more time for those in this role to focus on their other tasks during the day.
Conclusion
No on really knows what will happen when things get "back to normal" once most of the population is vaccinated. COVID-19 has flipped everyone's world upside down and it's been tough on employers and employees trying to navigate how we work and do business in the last year, with the field of administration being one of many.
How has COVID-19 impacted your business? What changes have you seen in administration? In other roles? Let us know by emailing
info@TorontoJobs.ca
!
For more tips and advice, you can watch all our videos on our Toronto Recruiters YouTube Channel
here
.
Want to attend one of our upcoming virtual events? Click
here
to learn more.
References:
The Receptionist
TorontoJobs.ca is a full-service recruitment organization, including TorontoJobs.ca Website, Career Fairs, full-service Recruitment Division and Outplacement Services. The local focus and advanced features make TorontoJobs.ca a vital asset for both job seekers and employers within the Greater Toronto Area. Visit our Online Career Centre for additional articles on Career Development, Personal Branding and more.
View All Articles