Listen to our Webinar Recording "How to Grow Your Career in Public Accounting" Presented by TorontoJobs.ca
Posted: 04.30.2021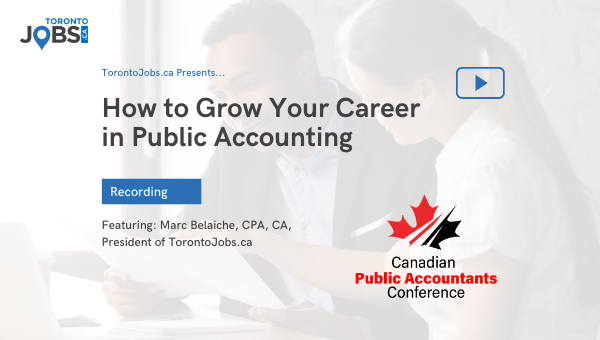 If you missed our webinar on "How to Grow Your Career in Public Accounting" presented by TorontoJobs.ca, you can catch the recording
here
.
The webinar is presented by Marc Belaiche, CPA, CA, President of TorontoJobs.ca.
This event is designed for those in public accounting looking for a new opportunity or want to know how to advance their careers with a CPA firm.
Marc has 25 years of experience in recruiting and is author of the book "Tales from the Recruiter: A Canadian Recruiter's Perspective on How to Get that Perfect Job."
In this one-hour session Marc will share his thoughts on what it takes to find a job in public accounting in this current market.
He will also speak on:
- The State of the Canadian Labour Market
- The importance of networking to improve your job search and career chances
For more employment advice, you can visit our TorontoJobs.ca YouTube Channel
here
.
For a list of our upcoming virtual events and webinars click
here
.
TorontoJobs.ca is a full-service recruitment organization, including TorontoJobs.ca Website, Career Fairs, full-service Recruitment Division and Outplacement Services. The local focus and advanced features make TorontoJobs.ca a vital asset for both job seekers and employers within the Greater Toronto Area. Visit our Online Career Centre for additional articles on Career Development, Personal Branding and more!
View All Articles