HR Feature: Kim Hogendoorn, Director, Talent Acquisition, Symend
Posted: 05.04.2021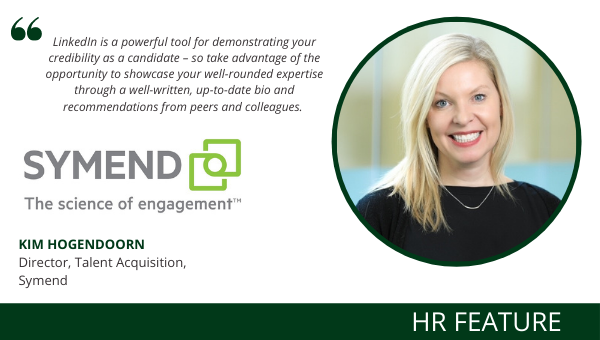 The TorontoJobs.ca Initiative:We understand that businesses and services may be impacted by COVID-19 and we want to leverage our online community and support those that have supported our events over the years. We will be featuring leaders and professionals in the HR and recruiting industry throughout the pandemic and we hope that you will support them as well!
About Kim
An experienced talent leader with a reputation as a trusted partner who is accountable, solutions-oriented and forward-thinking. Specialties include full cycle, tech, high-volume, campus/early careers and global recruitment, as well as employer branding and talent strategies. What attracted me to Symend is that my talent philosophy aligns with its values. Leading with Empathy and Be Bold are two of our values that resonate most strongly with me as I am passionate about doing things differently, challenging boundaries and creating a positive impact on our clients' customers. I am also passionate about building and scaling high-performing Talent Acquisition organizations through coaching and training. I love providing an exceptional candidate and hiring manager experience, building talent programs and strategies to attract new candidates, as well as ways we can support new hires to have an impact on the organization and its culture from day one.
About Symend
Symend's digital engagement platform uses behavioral science and data-driven insights to empower customers to resolve past due bills. Leveraging advanced analytics, Symend provides enterprise clients deep understanding into consumer behavior to engage millions of customers. Founded in 2016, Symend's platform is purpose built to serve complex global enterprises in telecommunications, financial services, utilities and media. Symend is headquartered in Calgary and privately held, with global operations across Canada, the United States, Latin America and Asia-Pacific.
What advice would you give job seekers searching for a job during this tough time?
Searching for a new job is never easy, and is a job in of itself. Stay positive and know that each step you take will get you closer to finding your next opportunity. To accelerate the process, leverage your network to gain referrals and learn about available opportunities. Mentorship is also key: Remember that mentors have been in the same position as you before, so seek opportunities to learn from them, practice interviewing and ask for feedback on your resume. If you want a company to invest in you, invest in yourself! Be bold and don't let fear hold you back – identify opportunities to demonstrate the things you are proud of having accomplished professionally and personally. If you are interested in specific industries, start attending and networking at industry events. When job hunting, thoroughly read the job description and familiarize yourself with the company by reviewing its website, blogs and social media channels. If you think the opportunity is aligned, connect with recruiters to express interest! Better yet, personalize your message and tell them about why you were attracted to the company.
What would you say are the most important things candidates should include on their resume?
Make it as easy as possible for the recruiter to realize you're a great fit by aligning your experience with the job posting and the organization's values (tip: weave these in within your work experience bullet points and call out specific platforms and tools you use in your everyday). Get creative in your resume as you see fit, but don't get too creative that you miss the mark on sharing the most important information that will sell yourself as a prospective candidate. Have you mentored someone? Won an award? Launched a big project that drove exceptional results? When trying to demonstrate your value to a company, remember to put yourself in the recruiter's shoes: What would impress them most as it relates to that role?
What are the key characteristics you look for when hiring someone in your organization?
While there's plenty of opportunity for personal development and growth, Symenders are best set up for success if they deeply believe in our vision of transforming the science of customer engagement on a global scale. As a rapidly scaling company, the pace is fast and there's never a shortage of things to do. As you consider joining the Symend team, we recommend ensuring our core values resonate with you: lead with empathy, own your potential, be bold, embrace the challenge and lend a hand. We're in the business of leading with empathy to make a positive, lasting impact on our clients, their customers and our team – this value guides everything we do. We encourage all Symenders to own their potential and be the CEO of their own role. With a roll up your sleeves attitude and a burning desire to succeed, we are driven by results and hold each other accountable to doing our best work. We are a team of high performers with a passion to solve complex problems with innovative solutions that make the impossible, possible. We look for candidates who are eager to embrace the challenge and lend a hand – doing something that's never been done before isn't for the faint of heart. We want to hear from you if you believe in putting your ego aside to get things done so we can tackle our audacious goals, together.
Can you provide us with some tips on how a job seeker can present themselves online professionally?
LinkedIn is a powerful tool for demonstrating your credibility as a candidate – so take advantage of the opportunity to showcase your well-rounded expertise through a well-written, up-to-date bio and recommendations from peers and colleagues. Also call out achievements you're proud of, such as licenses and certifications, accomplishments and volunteer experience to demonstrate you're actively involved in your professional development and local community. You can further pique recruiter interest by sharing work samples on LinkedIn or within a digital portfolio. Regardless of industry or profession, own your personal brand and make it shine!
Symend Website
|
Symend Facebook
|
Symend Twitter
|
Symend LinkedIn
View All Articles