Ask the Recruiter
Posted: 05.11.2021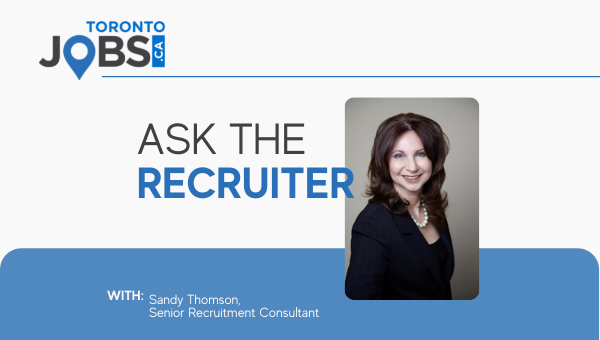 Whether it's a question about the current job market, how to make your resume stand out, or how to ace your video interview – we've got the answers for you.
Welcome to our new segment called: "Ask the Recruiter." It's where we'll answer your pressing questions about employment.
Answering your questions is our Senior Recruitment Consultant Sandy Thomson. She has over 20 years of experience in permanent full time, project and contractual consulting, and temporary staffing. Sandy prides herself on excellence in client and candidate service delivery and works across many industries and positions with a focus on accounting and finance, including public accounting firms.
Do recruiters really read your cover letters? If so, do you have any tips on how I can stand out?
There are many who do and many that don't.
My recommendation is yes; include a cover letter as this will assist the recruiter to quickly assess your qualifications to match against potential positions. This will also allow recruiters to create a file for you right away in case they don't get to have a phone call/face-to-face/virtual meeting with you. Please include why you are looking for a change, if applying to a specific role - be specific as to why you're interested in that role. If it's a generic application, provide what type of role you are looking for.
Some tips:
Tailor your cover letter to the position.
Provide types of roles/industries of interest.
Be concise and brief.
Summarize transferrable skills.
Provide salary expectations and preferred location of work.
Provide any soft skills that are not on resume.
Do not cut and paste from your resume.
Do you have a question for Sandy? Send us your questions to
info@TorontoJobs.ca
or reach out to us on our social media. Check us out on
Facebook
,
Twitter
, and
Instagram
.
Looking for more employment tips? Check out our
YouTube Channel
for more content.
Want to network with career coaches and employers? Check out our upcoming career events
here
.
TorontoJobs.ca is a full-service recruitment organization, including TorontoJobs.ca Website, Career Fairs, full-service Recruitment Division and Outplacement Services. The local focus and advanced features make TorontoJobs.ca a vital asset for both job seekers and employers within the Greater Toronto Area. Visit our Online Career Centre for additional articles on Career Development, Personal Branding and more.
View All Articles