Four Causes of "Zoom Fatigue" and How to Help Your Employees Combat It
Posted: 05.13.2021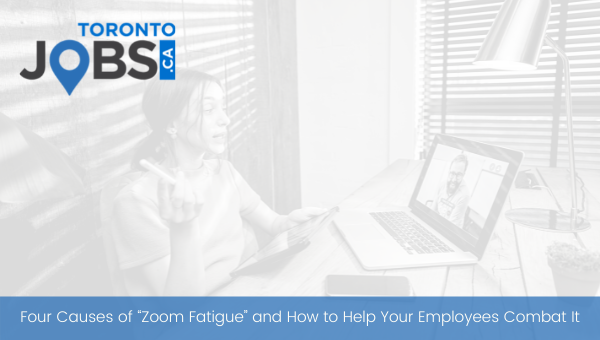 With many working from home since the start of the corona virus pandemic in 2020, video conferencing platforms like ZOOM have become a very popular form of communicating with each other whether it'd be at work or school.
But it doesn't end there. There's also Skype, Teams, Facebook Messenger, FaceTime, WhatsApp Messenger, and so on that are being used to keep in touch with co-workers, students, friends, and family.
At first the concept of using these platforms was great when we couldn't be physically together, but with a third lockdown and another extension for the stay-at-home order… everyone is tired and researchers at Stanford have four reasons why.
Communication Professor Jeremy Bailenson, Founding Director of the
Stanford Virtual Human Interaction Lab (VHIL)
, examined the psychological consequences of spending hours each day on these platforms.
In this article, we will cover the four consequences of video chats Bailenson identified in his examination and ways you can help your employees beat these negative feelings.
1. Too much eye contact.
Normally when attending a meeting at work or sitting in a classroom, there really isn't that much eye contact. Yes… you're looking at the person speaking, but you're also taking notes and sometimes catch yourself looking elsewhere. However, in let's say a ZOOM meeting, everyone is looking at everyone all the time. "A listener is treated nonverbally like a speaker, so even if you don't speak once in a meeting, you are still looking at faces starting at you," the study notes.
A person also appears much larger up front in a video meeting, "depending on your monitor size and whether you're using an external monitor, faces on video conferencing calls can appear too large for comfort."
How to fix it?
For now, until there are changes made to the interface, look at how you can reduce the video window in relation to the monitor to minimize face size.
2. Seeing yourself during video chats is tiring.
There is always a window in video chats where you are always in view, which is "unnatural," says Bailenson. "In the real world, if somebody was following you around with a mirror constantly – so that while you were talking to people, making decisions, giving feedback – you were seeing yourself in a mirror, that would just be crazy. No one would ever consider that."
How to fix it?
Again, until there is a change in the interface to hide you in a video call, you can do it manually by using the "hide self-view button," which you can do by right-clicking on your window. You can also try to avoid looking at yourself during a video call (which can be hard) or not turning your video on (which depending on the situation or circumstance may or may not be unprofessional).
3. You're not as mobile.
Generally, when you are on the phone for example, you can walk around, use hand gestures, etc. But when you are on a video call, you're mostly just sitting in front of your computer or laptop camera.
How to fix it?
If you are the one presenting, perhaps try presenting standing up, which will allow you more wiggle room to pace a little more and allowing the presentation to feel more natural. If you are attending a meeting, sometimes finding another kind of chair to sit on can do the trick.
4. Extra cognitive effort.
In video chats we have to work harder to send messages to who we are speaking with. "You've got to make sure your head is framed within the centre of the video. If you want to show someone you are agreeing with them, you have to do an exaggerated nod or put your thumbs up. That adds cognitive load as you're using mental calories in order to communicate," says the researcher.
How to fix it?
In longer meetings, you can take a break by using the audio only function and take a couple stretches while still listening to the conversation. To avoid constantly looking at the screen and remaining stagnant, you could try taking notes during the meeting.
Is your team experiencing ZOOM or video fatigue? You can assess how your team is doing by asking them some of the questions below and try helping them implement some fixes mentioned in this article.
How exhausted do you feel after video conferencing?
How irritated do your eyes feel after video conferencing?
How much do you tend to avoid social situations after video conferencing?
How emotionally drained do you feel after video conferencing?
How often do you feel too tired to do other things after video conferencing?
You can learn about the Stanford study
here
.
For more tips and advice, you can watch all our videos on our Toronto Recruiters YouTube Channel
here
.
Want to attend one of our upcoming virtual events? Click
here
to learn more.
TorontoJobs.ca is a full-service recruitment organization, including TorontoJobs.ca Website, Career Fairs, full-service Recruitment Division and Outplacement Services. The local focus and advanced features make TorontoJobs.ca a vital asset for both job seekers and employers within the Greater Toronto Area. Visit our Online Career Centre for additional articles on Career Development, Personal Branding and more.
View All Articles