Networking & Engagement Tips When Attending Virtual Events
Posted: 06.01.2021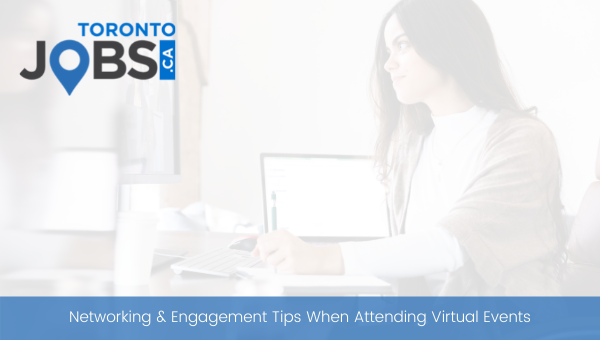 With in person events put on hold due to COVID-19, virtual events and conferences have become the new norm.
Here at TorontoJobs.ca, we have been holding our job fairs and other related conferences completely online since the start of the pandemic.
Many of these virtual event platforms hold similar features to a live event like attending speaking sessions, exhibitor booths, and networking.
However, if you're new at it, it can be a bit overwhelming to navigate. If you have plans on attending an online event, below we have a few tips on how you can make the most of your participation and how to network with others there.
1.
Make yourself known that you are at the event.
When you first log into the event, introduce yourself in the chat section if there is one.
Greet other attendees at the event by stating your name, position, and where you work. If you're a job seeker looking for employment, you can provide some detail as to what you are looking for and perhaps provide a link to your website or LinkedIn for anyone interested in connecting with you.
2. Engage during speaking sessions.
When attending presentations, ensure you engage with the speaker whether it'd be during the session or at the end during Q&As.
Let the speaker know you are active by posing a question, asking for more resources and references, or asking them what's the best way to connect with them to discuss the topic further. By doing this you are showing the speaker that you're genuinely interested.
3. Establish networking goals.
Depending on the platform, some may have an actual section where you can specifically network with other attendees at the event (like Hopin as an example). If not, you can still make connections with other attendees by using related chat/connection features.
Prior to the event, mark down a couple of networking goals you would like to accomplish to help make those connections. It can be as simple as introducing yourself to five new people or trading LinkedIn or emails with three people.
4. Share relevant ideas.
During a speaking session, you can set yourself apart from other attendees by sharing related ideas to the topic. It could be something you learned from another event, a class you took, an article you read, etc.
This can help make the session feel more like a conversation, allowing the speaker to comment back to some of the content that you've shared.
5. Follow up with your connections.
Ensure you follow up with the connections you've made at the event by sending them a quick email or connection request on LinkedIn. Especially if you are attending an event as a job seeker, following up shows the employer that you are a serious candidate.
6. Write a review.
Show that you've attended a conference by writing a review about your experience.
It could be tagging the company on your LinkedIn post, sending the company an email about your thoughts on the event that they've held, or it could be writing a Google review under a speaker's place of business about attending one of their speaking sessions at a virtual event.
Conclusion
COVID-19 has opened the door to a lot more avenues for holding events in different ways. Although it can be hard at first, virtual events and conferences do offer the benefit of convenience for those who are unable to attend as a result of distance. It's also a very quick way to make connections on the spot, whether you're looking to connect with employers for a job or you're looking for a particular service from a business. By following even just a few of these tips above, you'll soon enough become a pro at engaging and networking at virtual events.
For more career tips and advice, you can watch all our videos on our TorontoJobs.ca YouTube Channel
here
.
Want to attend one of our upcoming virtual events? Click
here
to learn more.
TorontoJobs.ca is a full-service recruitment organization, including TorontoJobs.ca Website, Career Fairs, full-service Recruitment Division and Outplacement Services. The local focus and advanced features make TorontoJobs.ca a vital asset for both job seekers and employers within the Greater Toronto Area. Visit our Online Career Centre for additional articles on Career Development, Personal Branding and more.
View All Articles