Are you hiring a candidate for the right reasons?
Posted: 06.02.2021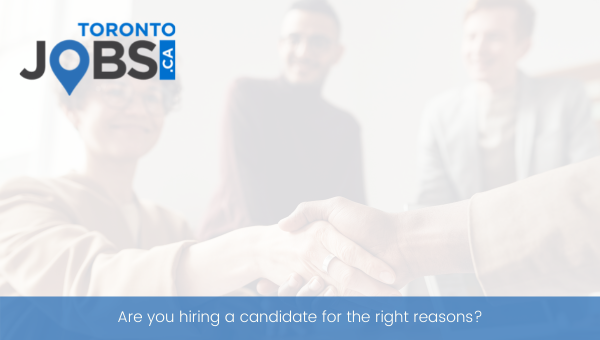 Fulfilling an open position at your company can make a big impact.
How well will the candidate perform the job, will they get along with your other employees, are they looking for a long-term position – hiring the right person is tough and there is a lot to consider.
In this article, we provide you with some of our tips to consider before offering a potential prospect the job.
1. Avoid hiring based on personality fit.
Of course, you want your new hire to get along with other employees at your company but avoid getting too fixated on hiring someone because they seem like they are very "social" or vice versa. You could miss the chance of hiring a high-quality candidate because they are quieter or more outgoing than you wanted.
Furthermore, you also don't want to hire someone based on how well they interviewed. Some people are better at interviewing than others. That's why it's important to learn more about the candidate you're interviewing through other means like references. By talking to their previous employer, you can learn more about how well they work on a team, how they handle pressure, etc.
2. Don't hire someone because they can help you make more money.
Generating revenue is important, but it's not the only thing that matters in business. Being helpful and courteous to customers, motivating other members of the team, having great ideas – these are other qualities to consider in a person before hiring them. It's about how each employee can help your business get where it needs to go.
3.
Try not to hire someone because you're doing them a favour.
This one can be tricky because you may, for example, want to help a friend out with finding a job for their son. But you could get into a situation where they aren't performing well at the job, and you need to let them go.
Instead, try hiring for the position within your organization. You may find that you already have a great fit.
4. Ensure you have a plan for why you are hiring for a position.
Why are you looking to hire someone? Are you looking to fill a position because the previous employee left? If so, consider asking yourself:
Do you need someone with lots of experience or can they learn some of the tasks along the way?
Are you expecting this position to expand on its responsibilities? If that's the case, maybe having someone with more experience would be more beneficial.
Could someone else fulfill the position's tasks (depending on how small or large the position was in the overall company).
Maybe you only need to hire someone temporarily. In that case, you can think about:
How long would you need them for?
What specific tasks do you need to be completed in the time that they are here?
Could their position become a full-time position in the company?
Conclusion
There's a lot to consider when hiring someone to fulfill a position at your company. It's important to think about why you want to hire someone and the ways in which your company can benefit from an overall perspective, as opposed to just one – like making more money. By doing this, you'll find that oftentimes you'll get a better pool of candidates to choose from, who are willing to grow with your company.
For more tips and advice, you can watch all our videos on our Toronto Recruiters YouTube Channel
here
.
Want to attend one of our upcoming virtual events? Click
here
to learn more.
TorontoJobs.ca is a full-service recruitment organization, including TorontoJobs.ca Website, Career Fairs, full-service Recruitment Division and Outplacement Services. The local focus and advanced features make TorontoJobs.ca a vital asset for both job seekers and employers within the Greater Toronto Area. Visit our Online Career Centre for additional articles on Career Development, Personal Branding and more.
View All Articles