Tips for Having Great References
Posted: 06.15.2021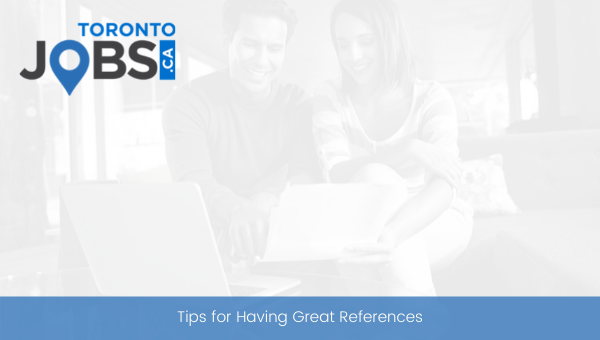 Providing high quality and relevant references is crucial when searching for your next job.
References are there to help promote and advocate for you both as a professional and as a person to your next employer – but you have little choice in terms of what your references say about you. However, you can control who you provide as references to a hiring manager.
Below we have three tips on the steps you can take to ensure you choose the right references to represent you.
1. Choose your references wisely.
You want to ensure that you're choosing references that will best represent you as a job seeker. Focus on getting references who can elaborate on all your experiences like your work ethic, educational achievements, work in the community, etc. You also want to find references that can speak to how you will fit the requirements of the job description. Your references should be able to provide examples to your potential employer about how you can use specific programs, endorse you on your communication skills, etc.
2. Handle poor relationships with care.
If you had a personality conflict with a key player at your workplace or if you have been terminated, make efforts to try and resolve it in some capacity.
Contact your former employer to see if you can talk about what happened. You could explain to them what you've learned from this experience and talk about the efforts you have done to change. Ask them what they think your strengths are and what your weaknesses are and how you can improve. See if they can give you a reference based on this conversation.
If not, think about who you did have a better work relationship with. It could be another supervisor, a co-worker, or even a client.
3. Prepare your references.
Ensure you and your references are clear on how they will endorse you to a potential employer. Send them a copy of your resume and set up a brief meeting to go over the job you are applying to, explain your skills set in more detail, and go over past employment and community work. This will ensure that your references are sending the right message to the hiring manager.
For more, watch Rob Daniels discuss this topic
here
.
For career tips and advice, you can watch all our videos on our TorontoJobs.ca YouTube Channel
here
.
Want to attend one of our upcoming virtual events? Click
here
to learn more.
TorontoJobs.ca is a full-service recruitment organization, including TorontoJobs.ca Website, Career Fairs, full-service Recruitment Division and Outplacement Services. The local focus and advanced features make TorontoJobs.ca a vital asset for both job seekers and employers within the Greater Toronto Area. Visit our Online Career Centre for additional articles on Career Development, Personal Branding and more.
View All Articles