5 Tips for Improving Your Candidate Experience
Posted: 07.01.2021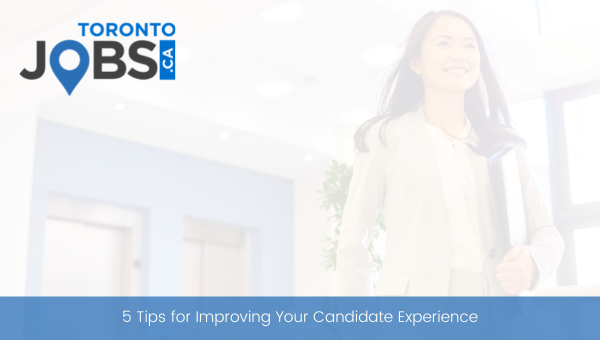 Providing a positive candidate experience is an important part of an organization's recruitment process. How a candidate is made to feel during your hiring process can have a huge impact on your company – influencing whether or not the candidate will accept the job offer or what the candidate could say about your organization's brand.
In this article, we will be referencing a study done by
CareerArc
, which surveyed 826 job seekers and 374 HR professionals on each stage of the candidate experience – from the application, notification, and beyond. Some of the results show:
65% of candidates say that they never or rarely received notice about their application. If they did, 51% say it took a month or more to hear back.
60% of job seekers report having received a poor candidate experience. Of those respondents, 72% shared that experience with someone online or directly.
Job seekers are 3.5 times less likely to re-apply to a company if they are not informed about their application.
The report also showed that 59.2% of candidates advised companies to focus on better communication with job seekers throughout and after the applicant process. However, only 42% of employers say they reach out and re-engage with declined candidates, even though 98% of them believe re-engaging declined candidates will be impactful to building their talent community.
It's clear that candidates want a better experience, but how can companies do that? Below we have provided you with some tips on how you can do that.
1. Write a better job description.
Be clear about the responsibilities of the job – don't just make a list of requirements. You also want to include information about salary, benefits, and company culture. Job seekers are not just applying for the job, they are applying to an organization as well. You can click
here
to learn more about writing job descriptions.
2. Improving your website.
Make it easy for job seekers to find out information about where and how they can apply to your company. Ensure job seekers have access to useful and relevant information to assist them in applying and someone they can contact if they need help.
3. Make the application process simple.
You don't want to lose potential candidates because they got fed up with a long and lengthy application process online. Ensure the initial application process is simplistic, requiring only the necessary information. You can ask for more information further along the application as you are moving candidates through.
4. Communicate with your candidates.
Job seekers spend a lot of time applying to jobs, so ensure you give them the respect and appreciation back by communicating with them – whether it's telling them they didn't get the job or you are still in the selection phase.
5. Give feedback.
If a candidate didn't get the job and they ask you for feedback, take some time to get back to them about why they may have gotten the job. Job seekers will appreciate you giving constructive criticism in order to improve and will be more likely to re-apply another time. You can also connect with them on LinkedIn to keep a working and professional relationship even after the process.
TorontoJobs.ca is a full-service recruitment organization, including TorontoJobs.ca Website, Career Fairs, full-service Recruitment Division and Outplacement Services. The local focus and advanced features make TorontoJobs.ca a vital asset for both job seekers and employers within the Greater Toronto Area. Visit our Online Career Centre for additional articles on Career Development, Personal Branding and more!
For more content, you can check out our Toronto Recruiters YouTube Channel
here
.
Want to attend one of our upcoming virtual events? Click
here
to learn more.
View All Articles