Ask the Recruiter
Posted: 07.06.2021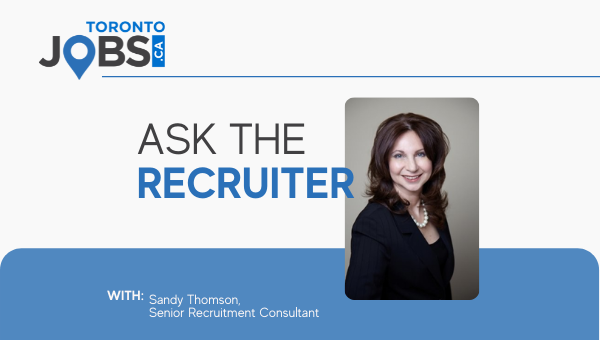 Whether it's a question about the current job market, how to make your resume stand out, or how to ace your video interview – we've got the answers for you.
Welcome to our new segment called: "Ask the Recruiter." It's where we'll answer your pressing questions about employment.
Answering your questions is our Senior Recruitment Consultant Sandy Thomson. She has over 20 years of experience in permanent full time, project and contractual consulting, and temporary staffing. Sandy prides herself on excellence in client and candidate service delivery and works across many industries and positions with a focus on accounting and finance, including public accounting firms.
How to turn down or say "no" to a job offer?
Getting a job offer is a rewarding and flattering outcome to your job search process. However, in the end it doesn't always mean you'll want to accept the offer. If this is the case, you will want to decline the job offer in the most respectful and professional way.
Before turning down the role, please make absolutely sure you are not interested in the opportunity. It's helpful to put together a pros and cons list in writing with questions to help you make an educated decision before you decline the offer:
Will I regret not accepting this role?
Will this position be the stepping stone to get to where I want to be in 5 years?
Is the salary at the level I need to pay my bills?
Does this position offer the flexibility and work life balance I need, I want?
Choose your communication method wisely – over the phone is always preferred; if you don't catch the individual live; leave a brief message and follow up with a detailed email.
Give a reason – be willing to provide constructive criticism, whether it was that the salary wasn't in line, that you were hoping for more work life balance or flexibility with hours, remote work, or if the role didn't quite meet your long-term goals; it's always preferred to provide a tactful reason. This will assist them in re-evaluating the position, improve their hiring process, and provide their competitive edge in the marketplace.
Leave the possibility of other opportunities open. It's important to maintain the relationship. After giving the reason, state that you were impressed with the organization, the people you interacted with, the hiring process, and hope that they will keep you in mind for future positions more in line or more suited to what you are looking for. Connecting with them on LinkedIn is a good way to stay in touch.
Be appreciative – always thank them for the consideration and the time they took through the entire recruitment process and the steps along the way.
There are many reject letters available online; some starter verbiage examples can be:
After careful consideration, I've decided to accept another position in an industry that closely aligns with my background…
After careful consideration, I've decided to stay with my current employer…
Thank you for the offer; however, after much thought, I've decided to…
Thank you for the offer. It was a difficult decision to make, but I have accepted a position with another company…
Check out these links for more suggestions:
https://www.monster.com/career-advice/article/sample-letter-declining-job-offer/
https://www.best-job-interview.com/decline-job-offer-letter.html
https://www.livecareer.com/resources/jobs/offers/sample-declining-letter
Do you have a question for Sandy? Send us your questions to
info@TorontoJobs.ca
or reach out to us on our social media. Check us out on
Facebook
,
Twitter
, and
Instagram
.
Looking for more employment tips? Check out our
YouTube Channel
for more content.
Want to network with career coaches and employers? Check out our upcoming career events
here
.
TorontoJobs.ca is a full-service recruitment organization, including TorontoJobs.ca Website, Career Fairs, full-service Recruitment Division and Outplacement Services. The local focus and advanced features make TorontoJobs.ca a vital asset for both job seekers and employers within the Greater Toronto Area. Visit our Online Career Centre for additional articles on Career Development, Personal Branding and more!
View All Articles