Employment Rebounds in June as some Restrictions are Lifted
Posted: 07.09.2021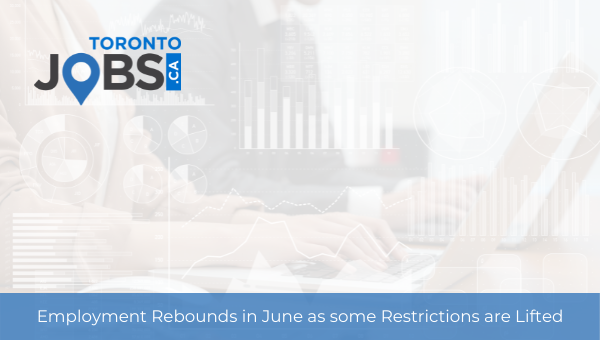 Employment rose by 231,000 (+1.2%) in June, following at decline of 275,000 jobs over the previous two months.
The growth in employment was mostly seen in part-time work and concentrated between youth between ages 15-24, primarily young women.
Part-time work grew by 264,000 (+8.0%) after combined losses of 132,000 jobs over the last two months. The overall level of part-time work was relatively the same as levels in February 2020, which was prior to the COVID-19 pandemic.
Increases were greatest in accommodation and food services and retail trade, which was in line with the lifting of public health restrictions.
Full-time work was little changed, after falling by 143,000 over the previous two months.
People working less than half their usual hours fell by 276,000 (-19.3%).
Self-employment dropped by 63,000 (-2.3%), which is down by 7.2% compared with levels in February 2020.
The number of Canadians working from home drops by nearly 400,000 to 4.7 million, as 2.5 million of these people were working from home due to the pandemic, which was not their usually work location.
The number of people working in locations other than home rose by 700,000 to 12.3 million.
The unemployment rate fell 0.4% to 7.8% last month, as the total number of unemployed people fell by 61,000 (-3.7%).
The numbers remained above levels back in April, which was 7.5%, however the rate is still lower than recent peaks in January at 9.4% and record high levels in May at 13.7%.
To view the full report you can click
here
.
View All Articles