HR Feature: Emily Rice, Recruitment & Grant Specialist, Collective Arts Brewing
Posted: 07.16.2021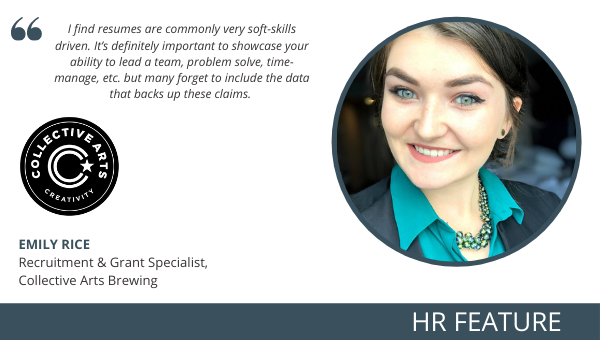 The TorontoJobs.ca Initiative:We understand that businesses and services may be impacted by COVID-19 and we want to leverage our online community and support those that have supported our events over the years. We will be featuring leaders and professionals in the HR and recruiting industry throughout the pandemic and we hope that you will support them as well!
About Emily
I am a "Jill" of all trades offering expertise working with companies looking to enhance their company culture and grow their teams. My specialty is the ability to bring out the spark in organizations that contribute to an enriched company and a happy workplace. I have experience working with small and large institutions across several different industries (consumer packaged goods, manufacturing, technology, higher education, etc).
I'm a world traveler and have worked and lived in Canada, USA, China and Ireland. I embrace diversity and love working with different cultures throughout the world.
About Collective Arts Brewing
Collective Arts Brewing is a grassroots craft brewery that aims to fuse the creativity of craft beer with the inspired talents of emerging artists and musicians. Collective Arts Brewing was founded on two beliefs: The first that creativity fuels creativity. And the second, that creativity yields delicious pints. We feature limited-edition works of art on our beer cans and labels, and we work to make sure the liquid on the inside is as diverse and creative as the artists we profile.
Collective Arts's home base is out of Hamilton, Ontario, Canada. This is where we brew everything from our flagship IPA Ransack the Universe to our World Beer Cup-winning Stranger than Fiction porter. We also create award winning gins, ready-to-drink cocktails, and cannabis infused beverages.
We have two establishments for customers to enjoy our beverages; our taproom and beergarden in Hamilton, and our Brewpub in downtown Toronto. Both locations have a retail space, brewing space, and an area to enjoy our delicious products with a full stocked kitchen of delicious food items to pair with your beverages!
What advice would you give job seekers searching for a job during this tough time?
Stay optimistic. I'm starting to see a shift in the recruitment world. This past year has been what folks in the HR field call a "Employer-Driven Market". There were significantly less job opportunities open than demand. Recruiters could be very selective in who they wanted to hire. Now that we're entering the post-pandemic world, the market is beginning to shift to the "Candidate-Driven Market". More jobs are beginning to appear, and the unemployment rate is starting to diminish. There are less candidates applying for positions and I'm finding that candidates are having multiple offers on the table.
My advice - stay true to what aligns with your goals. It doesn't help you or a company to accept any position that is offered to you. Now that there are more opportunities arising, take time to reflect on what you truly want out of a career and try to find a company and position that you can see yourself in for the next couple of years, not just for the short-intermediate. It is a two-way street. Managers are looking for top talent, but candidates should also be asking the question - is this the best opportunity for me?
What would you say are the most important things candidates should include on their resume?
Data!!! I find resumes are commonly very soft-skills driven. It's definitely important to showcase your ability to lead a team, problem solve, time-manage, etc. but many forget to include the data that backs up these claims.
Mention cost-savings, the team size you led, and actual data points. This will make you stand out from the other candidates. Include specific softwares and skills that are relevant to each position.
Example: If you are applying for a Graphic Designer position - it's best to not assume that the person on the other side is going to know and understand all of the softwares that a graphic designer uses daily. List them out! Many recruiters use Applicant Tracking Systems ("ATS") that will rank you on these keywords. Look at the job description and notice if there are any specific skills required for the role. Be sure these skills are listed on your resume (but be sure you actually are knowledgeable and have experience in these areas) to rank highly in the ATS system.
What are the key characteristics you look for when hiring someone in your organization?
1) Initiative and the drive to continuously learn
2) Commitment and flexibility. The ability to adapt is key.
3) Creativity - ability to think outside the box
Can you provide us with some tips on how a job seeker can present themselves online professionally?
Keep your LinkedIn up to date - this is a great way for recruiters to have access to you! You'd be surprised at how many recruiters and head-hunters solely use LinkedIn as their candidate database.
The more information you add to your page, the higher your chances are that head-hunters will see your profile when searching for relevant candidates.
- Include a professional headshot
- Add previous positions with your previous employers
- Utilize the recommendation features on LinkedIn
- Add skills under the Skills and Endorsements section that best reflect your key strengths
Watch a Collective Arts Brewing's featured video
here
.
Collective Arts Brewing LinkedIn
|
Collective Arts Brewing Facebook
|
Collective Arts Brewing Instagram
View All Articles