How to Write a Thank You Email After Your Interview
Posted: 07.20.2021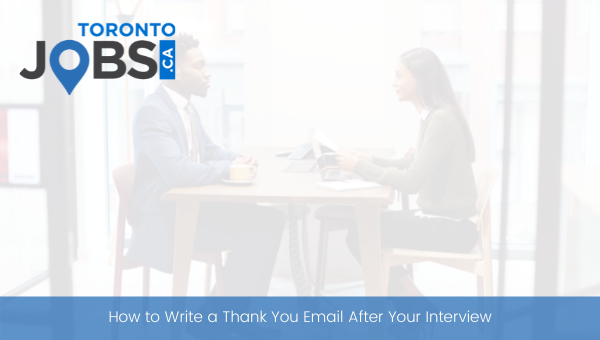 Sending a thank you email is common practice after an interview with a potential employer, but not a lot of job seekers do it.
Many think that it can look a bit "aggressive" to the employer and feel that it may backfire on them and affect their chances of landing a job. However, if done correctly it can actually be very beneficial – showing the employer your eagerness and genuine interest in the position that's up for grabs.
Below we have provided you with some tips on how you can craft the perfect thank you email after your interview.
1. Consider the timing of your email.
Ensure you send the thank you email within 24 hours of your interview, while you remain fresh in the employer's mind – it can help you create a more lasting impression.
2. Know who interviewed you.
This can especially be handy when you were interviewed by multiple people. You can always ask prior to your interview who you will be meeting with so you know who to ask for when you arrive at the interview, or you can ask for business cards at the end of the interview in order to get the contact information you need.
Once you have that information – email each person separately and make each thank you email a little different, catering the email based off their position in the company.
3. Keep it short and simple.
The thank you email doesn't have to be long and overly complicated, just something simple to thank the employer for their time and you can reiterate your interest in the position. Ensure you include:
Subject line
Personalized greeting
Note of appreciation
Recapping your interest
Acknowledgment of next steps
Contact information/sign off
Take a look at this sample below:
Subject line:
Thanks for meeting with meHello [Name],I wanted to take the time to thank you for meeting with me on Monday, July 19th, 2021, regarding the Marketing Coordinator opening at your company. It was great to meet with you and Anne about the opening and I enjoyed learning about potential opportunities at your company.I am very interested in this role. I think my experience as a Marketing and Social Media Assistant will provide value to this new role, while also challenging me to learn and grow new skill sets.I look forward to hearing from you in the future. Please don't hesitate to contact me if you need additional information.Thank you,Sarah Patricksarahp@email.com222-555-7777
For career tips and advice, you can watch all our videos on our TorontoJobs.ca YouTube Channel
here
.
Want to attend one of our upcoming virtual events? Click
here
to learn more.
TorontoJobs.ca is a full-service recruitment organization, including TorontoJobs.ca Website, Career Fairs, full-service Recruitment Division and Outplacement Services. The local focus and advanced features make TorontoJobs.ca a vital asset for both job seekers and employers within the Greater Toronto Area. Visit our Online Career Centre for additional articles on Career Development, Personal Branding and more.
View All Articles