Questions You Should Be Asking During Your Exit Interviews to Improve Your Process
Posted: 07.22.2021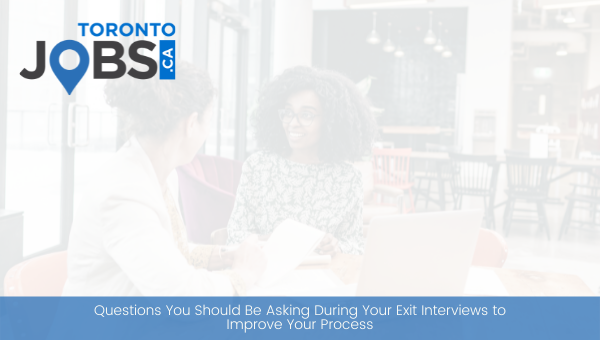 Providing exit interview questions for your employees before they leave can give you a lot of insight into what you can do better at your organization. Whether it's about improving processes and procedures or workplace culture, their information can help you determine what changes need to be made to improve employee retention.
Although it may be easy for some employees to discuss what improvements need to be made at your organization and why they're leaving, for some others it may not be. That's why it's important to carefully construct your questions in a way that makes them feel comfortable to be open and honest.
Below we have provided you with some questions you can ask during your exit interviews.
1. What was your motivation to start looking for a new opportunity?
The employee could give many different reasons for this question – relocating to another city/town, going back to school, they felt the industry wasn't a right fit, etc. However, you want to look out for specific examples of why they are leaving like there wasn't room for advancement or they felt like they weren't being compensated enough in relation to how much they did or how long they've been at the company. These types of answers will help you navigate how you can address employee's career aspirations or re-think compensation numbers at your company.
2. Did you feel like your achievements were reasonably recognized?
When employees feel like they're appreciated, they're more likely to stay positive and motivated. If an employee felt as though their contributions weren't recognized, it could be the reason why they are leaving. Depending on the employee's answer, it may be something the company needs to work on to show employees that they matter.
3. Do you think your role has changed since you were first hired at the company?
The answer to this question can help you write an updated job description. Job roles change all the time depending on the needs of the company. Perhaps an employee had to learn how to use new programs or technology? You can now update these expectations in your job description to ensure you find a candidate who is familiar with them.
4. What did you like the best about your job? What did you like the least?
This question can also help tweak your job description. For example, maybe the employee didn't like how much they had to travel. When looking for your next candidate, you can ensure they are comfortable with frequent travelling. Perhaps the employee didn't like that your company wasn't flexible enough when they had to make appointments or make last-minute runs to pick-up their kids? Maybe being more understanding of an employee's needs is something the company can improve on.
5. Is there anything that could have changed your mind about leaving?
If the employee didn't really give you a descriptive answer when you asked them about what motivated them to leave, perhaps this question can give you a little more insight. Maybe they would have changed their mind if they had more flexible working options? Especially now since many employees have been working from home since March 2020, a lot of employees are looking at organizations who are more remote friendly post-pandemic.
6. Did you share any concerns with the company before you decided to leave?
This question can give you an answer about your workplace culture. If the employee answers "yes" and has brought up issues in the past, but felt that nothing was being done about them, this could mean that they weren't being taken seriously or perhaps your organization wasn't asking employees enough for feedback. However, if they did bring up issues in the past and they felt like they were being heard – this shows that your employees feel confident sharing their concerns at your company.
TorontoJobs.ca is a full-service recruitment organization, including TorontoJobs.ca Website, Career Fairs, full-service Recruitment Division and Outplacement Services. The local focus and advanced features make TorontoJobs.ca a vital asset for both job seekers and employers within the Greater Toronto Area. Visit our Online Career Centre for additional articles on Career Development, Personal Branding and more!
For more content, you can check out our YouTube Channel
here
.
Want to attend one of our upcoming virtual events? Click
here
to learn more.
View All Articles