Career Spotlight: Rob Daniels
Posted: 08.04.2021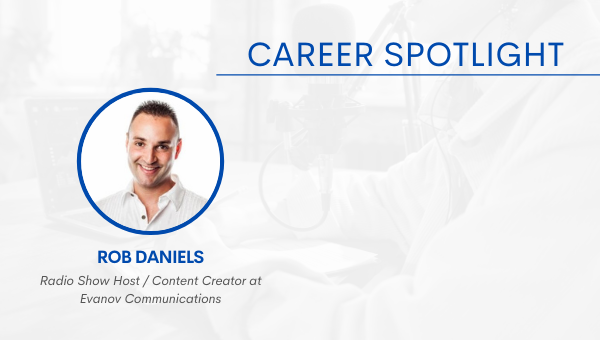 To help job seekers learn about the career path they are interested in pursuing, TorontoJobs.ca has created a new segment called: "Career Spotlight."
Each article will spotlight an expert in a particular field where we ask them questions about how they got to where they are, what are the responsibilities of their role, their favourite part of the job, and words of encouragement for those aspiring to follow in their footsteps.
In our first Career Spotlight Segment, we'd like to introduce Rob Daniels, Radio Show Host and Content Creator at Evanov Communications.
What inspired you to choose this career path?
What inspired me to chase this career path was listening to the PA Announcer at Skydome/Rogers Centre for several years.
What program did you graduate from?
I graduated from the radio broadcasting program at Seneca College in Toronto.
What are your responsibilities in your role?
My responsibility in my role is to host a radio program within station format, also to be a content creator and host on multiple radio station social media platforms. Also, to answer listener requests and inquiries over the phone, email and via text.
What's challenging about your job?
What's challenging about my job is to always know where you're going next. With multiple tabs open on the computer and a radio show to host knowing what needs to be attended to first and foremost in order of importance can sometimes be a challenge.
What's the most rewarding aspect about your role?
The most rewarding aspect of my job would probably be knowing that you made a positive difference in someone's life on any given day. It could be a song request for their favourite song fulfilled, qualifying them for a contest or sending them a shout out. Even making the smallest difference in someone's day is a very rewarding feeling for sure.
What advice do you have for job seekers who are interested in this line of work?
The advice I have would be to work hard. Always set goals for yourself and to remember that it is you versus you everyday. You shouldn't be comparing yourself or competing against an individual, rather find ways of making yourself better daily. Be a student of your craft always. Take notes, follow inspirational leaders, read books, and follow social media accounts that will help positively influence your life.
You can find Rob on:
Facebook
|
Twitter
|
Instagram
View All Articles