Canadian Economy Added 94,000 Jobs in July
Posted: 08.11.2021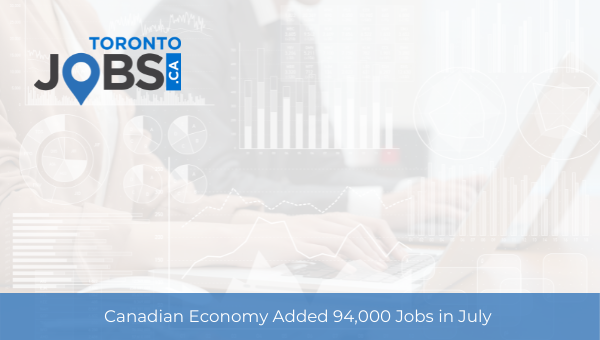 Employment rose by 94,000 in July adding to June's increase of 231,000.
Two consecutive months of growth brought employment below the February 2020 level at 246,000.
Employment gains in July were a result of the private sector industry, where the number of employees rose by 123,000, mostly in the accommodation and food services industry. This increase combined with gains of 251,000 in June brough the number of private sector employees to within 1.5% of its February 2020 level.
Self-employment was little changed, down 7.1% compared to February 2020. Stats Canada reports there has been little growth in the number of self-employed workers since the start of the pandemic.
Employment gains in July concentrated in full-time work, which rose by 83,000. This increase was a first since March 2021 and was seen throughout various industries.
Part-time employment was steady and the overall level of it was the same as in February 2020.
The level of Canadians working from home fell to its lowest level since October 2020. Among those working at least half their usual hours, the amount of people working from home fell by 2 percentage points to 25. 8%
The information, culture and recreation industry saw one of the largest shifts in work location in July, with the proportion of those who worked from home falling 9.0 percentage points to 38.6%.
The unemployment rate fell by 0.3% to 7.5% in July, considerably lower than the recent peak of 9.4% in January 2021.
To view the full report click
here
.
View All Articles