Signs That You Are Being Underpaid and What to Do About It
Posted: 09.07.2021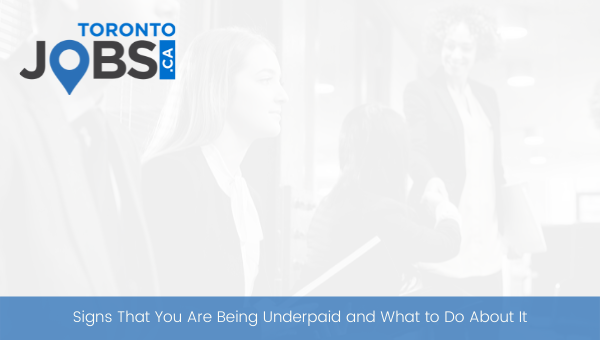 Are you wondering whether or not you are being underpaid?
If you aren't sure what the signs are, you may not even realize that you are being underpaid.
So in this article, we'll outline some of the signs of being underpaid and what you can do about it to ensure you are adequately being compensated based on your education and years of experience.
1. Your responsibilities have increased, but your salary hasn't changed.
Taking on some extra work from time to time is not a big deal unless a lot of these tasks have now become a regular part of your routine. It's important to ensure that you are fairly compensated for the work that you are doing. If your salary hasn't changed since taking on these new responsibilities, you may be underpaid.
2. You haven't had a performance review in over a year.
A performance review allows employers to discuss the work that their employees are doing and potential growth opportunities for them. If you hadn't had one in over a year, you're missing a chance to discuss things like a potential salary increase.
3. You're expected to work beyond your contracted hours – without being thanked.
Again, taking on some extra work isn't a big deal – unless you aren't being compensated for it if it's all the time. If you find yourself constantly working beyond your normal hours on more than one occasion, but you feel like you aren't being appreciated for it, it may be a sign that you're getting underpaid.
4. The salary you accepted at the beginning of your career has not increased since.
There's a possibility that when you first accepted your position, you initially accepted a lower-than-average salary. Over time you can earn raises overtime to get up to a fair level, but if you've been in your role for several years and your salary hasn't increased, you could be underpaid.
5. Your salary doesn't reflect that your career is high in demand.
If you are in a career like technology or digital media – your career may be high in demand. If that is the case, it's important to ensure that you are being compensated based on the industry that you are in.
6. Your company has a high turnover rate.
If you find that a lot of employees are leaving your company after a short period of time, consider why they are leaving. Perhaps these employees were not feeling like they were adequately compensated for the work that they were doing.
Now that you know some of the signs, what do you do about it?
1.
Try talking to a trusted co-worker.
Not all co-workers will be comfortable discussing what salaries they are getting, but perhaps they can help give you a better idea about how others are being compensated at your company.
2. Talk to your manager.
Set up a meeting with your employer about negotiating your salary. Before you meet with them, do some research into how other people in your position are getting compensated and be prepared to answer why you should get a raise.
3. Look for another position.
If speaking to your manager doesn't work – whether they didn't agree with you in terms of increasing your salary or they just don't have the conversation with you at all – this could be a sign that it's time to look for another job. However, ensure you research job openings and salaries before taking on another position.
For more career tips and advice, you can watch all our videos on our YouTube Channel
here
.
Want to attend one of our upcoming virtual events? Click
here
to learn more.
TorontoJobs.ca is a full-service recruitment organization, including TorontoJobs.ca Website, Career Fairs, full-service Recruitment Division and Outplacement Services. The local focus and advanced features make TorontoJobs.ca a vital asset for both job seekers and employers within the Greater Toronto Area. Visit our Online Career Centre for additional articles on Career Development, Personal Branding and more.
View All Articles