StatsCan says employment rose by 90,000 in August; unemployment rate fell by 0.4%
Posted: 09.10.2021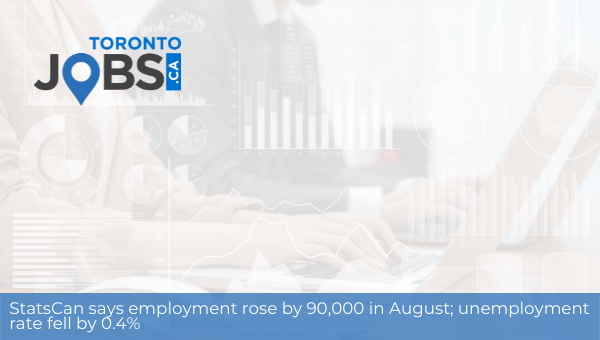 For the third consecutive month, employment in Canada rose, with 90,000 jobs being added last month.
Most of the gains were in full-time employment at 69,000, concentrated in service-producing industries led by accommodation and food services.
Employment increases in August occurred among private-sector employees at 77,000, bringing the numbers to within 0.9% of its February 2020 level.
Self-employment continues to see little changes, remaining at 7.7% below its pre-pandemic level. August marked the fifth consecutive month with no growth in this sector.
The average employment rate for summer students (between ages 15-24) returning to school this fall was at 50.3% from May to August, which is two percentage points lower than the average rate for the summer of 2019 at 52.3% and nearly 10 percentage points higher in the summer of 2020 (40.4%).
The number of Canadians working from home continues to fall. Among those who worked half their usual hours, the proportion working from home fell by 1.8% to 24% in August. This is the lowest since the onset of the pandemic.
Just under half of those working from home reported that their usual work location was outside of their home, down from two-thirds (66.8%) during the initial widespread lockdown in April 2020.
The unemployment rate fell by 0.4%.
To read the full report, click
here
.
View All Articles