Top Trending Career Hashtags on TikTok You May Need to Know as a Recruiter
Posted: 09.16.2021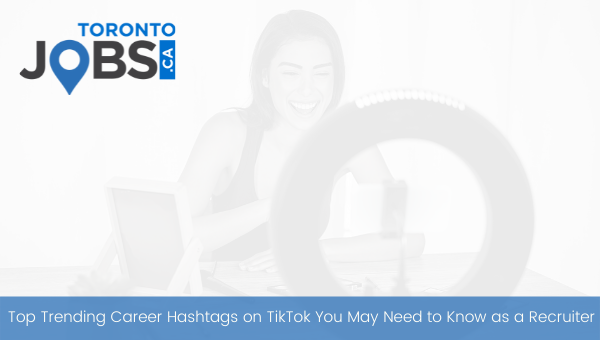 HR and recruitment professionals are getting more creative about how they share their content.
Instead of sharing career advice through traditional means like a blog post, for example, more and more professionals in the recruitment and HR industry are creating videos and posting them on the video-sharing platform – TikTok.
So in this article, we'll discuss the top three hashtags used on TikTok by recruiters and HR professionals to help them gain traction and why it's important to incorporate different types of social media into your organization's strategy.
Employee advocacy tech group PostBeyond compiled a list of these top three trending hashtags in the past year to help employers navigate TikTok:
#worklife gained 4.7 billion views
#jobtips gained 2.2 billion views
#career advice gained 1.4 billion views
Marketing Director Daniel Ku told the
Human Resource Director
that "the careers community is home to many industry professionals offering advice, whether [they] be dedicated career coaches or more industry-specific content creators."
Ku also added that TikTok is the platform of choice for "personable and quick-fire career content" – which is exactly why it's something to consider for recruiters and HR professionals. Converting blog posts and social media infographics into quick 30 second videos on TikTok can help you reach a much greater audience. Having a TikTok account can also help to attract students and recent graduates to intern, volunteer, or even work at your company, as TikTik videos can be used as another way to show off your company culture.
So what if you aren't ready to incorporate TikTok into your strategy? There are still ways for you to incorporate and use social media on a daily basis. For example, when you're in the process of doing background checks on a prospective candidate, you can use social media as an extra vetting step. What pops up when you Google the person's name? Are there any inappropriate pictures? Did they make any insensitive comments publicly? By doing this you are making sure that the candidate can represent your business and brand professionally.
You can also use tools like LinkedIn to find potential candidates. This platform gives you the opportunity to grow a network of professionals from various fields and by just simply reaching out to one of them they may have the perfect job seeker in mind for you.
For more ways on how recruiters and HR professionals can incorporate social media and technology into their jobs, you can check out our article
here
.
Written with references from:
HRD
TorontoJobs.ca is a full-service recruitment organization, including TorontoJobs.ca Website, Career Fairs, full-service Recruitment Division and Outplacement Services. The local focus and advanced features make TorontoJobs.ca a vital asset for both job seekers and employers within the Greater Toronto Area. Visit our Online Career Centre for additional articles on Career Development, Personal Branding and more!
For more content, you can check out our YouTube Channel
here
.
Want to attend one of our upcoming virtual events? Click
here
to learn more.
View All Articles